News Line
30/11/2011 – DESPITE conditions at Dale Farm being harsh now, following Basildon Council's brutal multi-million pound attempted eviction, the community is defiant, united, cheerful and determined to stay together. There are now more caravans on the estate than before
the attack.
Hundreds of riot police, bailiffs and contractors with heavy digging equipment moved in on 19 October  throwing families and their caravans off the site and leaving a trail of destruction.
In order to make living conditions on the estate as intolerable as possible, the council dug huge trenches where many of the caravans used to be situated on 52 separate private
yards.
Now there is mud everywhere and residents are very fearful for the safety of their children when the trenches fill up with water.
'Richard Sheridan, Chairman of Dale Farm Residents Association, speaking at News Line Anniversary Rally in East London on 27 November said: "The police led the eviction and it was a very brutal eviction such as I have not seen in my lifetime.
"This government has to be changed. It's appalling what they have done, especially
the Home Office, depriving people of education and disrupting lives.
"We're up against a racist policy from a council which is spending millions on ethnic cleansing."
He said: 'They are getting rid of 429 jobs in Basildon Council because they say they have to cut their budgets, but they've spent millions trying to get rid of us.
Back at Dale Farm John Sheridan told News Line: 'There are young kids here with no facilities. We all had toilets, running water, electric, but it's all been cut off. It's a human disgrace.
'Human beings, old and sick people, are being treated like rats.
'The reason there are more caravans here than before is that people have come home.'
Brian O'Shea said: 'Hitler's been dead since 1945 and genocide is over. But if you look up there you'll see it's like Beirut, or Iraq. It's madness.
Margaret Flynn said: 'There's mud everywhere and the site has been left in such a dangerous position for children and adults.
'Tony Ball (Tory Basildon Council Leader) has ruined people's lives.
'He's dug huge swimming pools next to the five legal pitches, blocking the roads into them.'
Mary Slattery said: 'We were so happy and united here, but they paid £22 million to move us out of our lovely homes.
'The country is moving into recession, they're closing hospitals and look at all the people unemployed. Then look at all the money that they have spent trying throw us out of our homes. But we're still here and we're staying, because we've got nowhere else to go.
'You'd think they could have left us alone in our homes, where we've never harmed anyone.
'I put it all down to racism, 100%.
'I've heard the council say it over and over, let them go back to Ireland.
'And I've heard the prime minister David Cameron say it on live TV – get them out at all costs.He also said why can't the Irish government deal with them.But the big majority here are all born English, it's just a few of the elderly here that are Irish.
'Again today a 14-year-old fell on the pathway there and they've taken her to the hospital.
'We don't know if her leg is broken or not.'
Nora Egan said: 'We need to get this government out now, they are only there for the rich and what they've done to us here is criminal.'
Bridget O'Brien said: 'Why is Cameron left in government? He's putting so many families in poverty, he's ruining the NHS and putting so many people out of work.
'His is a government for the rich and against the poor and he needs to be put out at once.
'I support what the people are doing down at St Paul's, they are fighting the government and people should back them.How come there are people in parliament with seven or eight homes and yet they want to make us homeless.
'We had lovely homes here, a proper community with lovely homes.But Basildon Council and Tony Ball have destroyed our homes and destroyed our lives. Now we've got no electricity.
'We have water but it's giving us dysentry and the children are choking. About four people have fallen because of what has happened and broken their legs.It's cruel what they have done to us. It's cruel having to live like this."
(source: Roma Buzz Monitor)
Garth Cartwright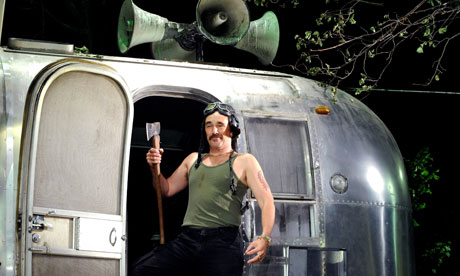 Mark Rylance as Johnny 'Rooster' Byron in the play Jerusalem. Photograph: Tristram Kenton
Wednesday 19 October will be remembered as a bleak day by those who claim allegiance with the UK's Traveller and Romany Gypsy communities. If the Dale Farm eviction marked a brutal beginning to the day, the screening on BBC2 of Panorama's Britain's Child Beggars marked a chilly close. Dale Farm's residents were Irish Travellers. The child beggars and their Fagins were Romanian Roma. Two very separate communities united only by a historic memory of roaming and a tendency to be described (and to describe themselves) as "Gypsies" – that catch-all term derived from "Egyptians", as Constantinople's citizens labelled the dark-skinned people who arrived at their city in 1068. These pioneers were, it is thought, fleeing the Islamic armies then invading north-west India. Admittedly, the Travellers and the Roma also share a common plight: whether in Ireland, Romania or their adopted UK home, they are perceived as outsiders, their communities ostracised and marginalised.
As the author of a book on travelling with Gypsy musicians, I'm often asked what I make of the showdown at Dale Farm or the virulent reactions east Europe's Roma stir up from the tabloids and rightwing politicians. There are no easy answers, but one thing is for certain: at the dawn of the 21st century, Gypsy culture is denigrated and celebrated in equal measure. In the West End, Johnny "Rooster" Byron, the protagonist of Jez Butterworth's much-praised play Jerusalem, is Romany. Memoirs such as Mikey Walsh's Gypsy Boy, Rosie McKinley's Gypsy Girl and Sam Skye Lee's Gypsy Bride have proved UK bestsellers. Romanian Gypsy bands Taraf de Haidouks and Fanfare Ciocarlia have lit up the world's greatest theatres and attracted voluble praise from all manner of critics.
Gypsy culture has moved in and out of fashion over the centuries: DH Lawrence described the Gypsies as noble savages while Jimi Hendrix wrote songs and named a band after them – and in my post today was a CD called Brass Noir, which finds Berlin-based DJs championing Fanfare Ciocarlia and other Balkan brass bands as club tunes. Indeed, Serbia's annual Guca brass festival – the Gypsy Glastonbury – is now on every adventurous backpacker's list. American rock bands Gogol Bordello and A Hawk and A Hacksaw both borrow elements of eastern Gypsy music to spice up their sound, with Gogol's vocalist seemingly sharing the same stylist as Mark Rylance in Jerusalem. Scruffy chic seemingly being the trademark Romany fashion.
History always repeats itself and this is nothing new: from Caravaggio's palm-reading, pick-pocketing hustler to Bizet's Carmen, the arts have loved the Roma. At least as inspiration. While the Nazis were intent on committing genocide upon Europe's Gypsies, their top officers flocked to see Django Reinhardt play in Parisian clubs. And Roma communities across eastern Europe are today more impoverished and threatened by rightwing groups than ever since the end of the second world war.
Slovakia, not a nation noted for its tolerance of the Roma populace, has entered Cigan (Gypsy) – a film that transports Hamlet's son-and-stepfather struggle to an impoverished rural Gypsy village – into the 2012 Academy Awards for best foreign film. The Gypsy cinema of Emir Kusturica (Serbia) and Tony Gatlif (France) has proved profitable on arthouse screens and Cigan (which screened at the London film festival last week) may follow suit. But those few who get ahead in music or film don't account for the multitude left behind. Some of whom, as the Panorama film suggests, end up being trafficked to the UK to beg on our streets. Many of Dale Farm's former residents might be forced to join them there this winter.
In spite of all this, Dale Farm's struggle has attracted almost no support from artistic voices beyond that of Vanessa Redgrave. The 2009 Belfast pogroms against Romanian Roma, likewise, were met with silence from the likes of Bono and Bob Geldof. Romanticised but despised, the life of the Gypsy as celebrated by so many songs and paintings, novels and films, looks less enticing on this freezing October morning.
(source: The Guardian)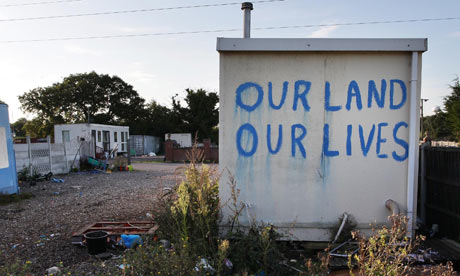 A slogan is painted on a hut at Dale Farm travellers camp Photograph: Peter Macdiarmid/Getty Images
Violent clashes as Dale Farm eviction begins
Caravan on fire as at least 50 officers enter site
Reports of police baton and taser use as protesters resist
(source: The Guardian)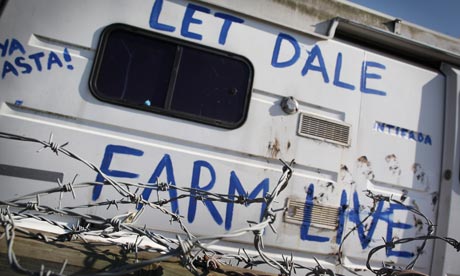 A van behind a barricade at Dale Farm Traveller camp. A judge ruled today that most caravans can be evicted and their concrete pitches ripped up Photograph: Peter Macdiarmid/Getty Images
Most of the caravans at the Dale Farm Traveller site can be removed, a judge has ruled. Basildon council took a further step towards evicting 86 families from the unauthorised site in Essex after a judge ruled it could remove caravans from 49 out of 54 plots.
The council was also told it could remove most of the concrete pitches, but the walls, fences and gates should remain, quashing the council's stated hope of "clearing" the site and returning it to greenbelt land.
The eviction cannot begin for several days, as Travellers wait to hear about three separate judicial reviews about the legality of the eviction. A separate high court judge is expected to rule if the judicial reviews can be heard by noon on Tuesday. An injunction preventing any removal from the site is expected to remain in force until at least after that decision.
The eviction at Dale Farm, which is now expected to cost Basildon council £22m, was halted at the 11th hour on Monday 19 September. The council had hoped to evict around 400 people, but an emergency injunction was put in place because of fears that the eviction would go further than eviction notices allowed.
At the high court, Mr Justice Edwards-Stuart ordered Basildon council to pay one-third of the legal costs to Dale Farm residents.
Some caravans can remain on site, along with fences, walls, some buildings and some concrete because they were in place before Traveller families bought the land at Dale Farm, or because they were not specified in the council's eviction notices.
Dale Farm resident Kathleen McCarthy said: "This will leave Dale Farm as a patchwork of concrete and fences, not the greenbelt the council are claiming it will be. Where are we supposed to go? They are separating families and ruining so many lives here, and for what? To turn Dale Farm into a scrapyard again. It's ridiculous."
[SOURCE: The Guardian UK]
My new hero~!

To the travellers at Dale Farm he is a shaven headed activist who helped man the barricade and played a key role in their High Court battle against eviction.

But today the Daily Telegraph can reveal the man who calls himself Yoshka Pundrik is in fact Dr Jonathan Oppenheim, one of the world's leading physicists who works alongside Professor Stephen Hawking.

Dr Oppenheim, a Royal Society Research Fellow at the University of Cambridge, is usually concerned with the intricacies of time, space and the universe.

But recently he has been focusing his forensic mind on something some people consider equally complex: Britain's planning laws.

And to the dismay of councillors and neighbours his advice has already helped the gipsies win three last-minute reprieves.

When confronted The Daily Telegraph Dr Oppenheim, an expert in quantum information theory and quantum gravity, admitted his real identity and claimed the travellers were victims of the last "socially acceptable form of racism".

READ MORE: The Telegraph



The eviction of some 400 people from the UK's largest illegal travellers' site, Dale Farm in Essex, has once again brought to the forefront Britain's traveller community.

Not to be confused with Romany Gypsies, who are the largest traveller group in the world with some 12 million members according to the Gypsy Council, the families who live at the site are Irish Travellers.

"A lot of Romany Gypsies are very angry at Irish Travellers in terms of the way our two identities are confused," says Jake Bowers, a Romany Gypsy journalist who writes for the Travellers' Times.

"We're two separate ethnic groups. Whilst there is some conflict because people inhabit the same social and physical space, there is some kind of harmony; some inter-marry and live alongside each other."

Both Irish Travellers and Romany Gypsies are recognised as distinct ethnic minority groups in English law because they are communities which share a history stretching back hundreds of years.

In a guide to Gypsies and travellers, Mr Bowers writes that from the 16th Century to the present day, "no ethnic groups in Britain have aroused as much curiosity, romance, hatred and fear as Gypsies and travellers".

The law and gypsies

Romany Gypsies have been in Britain since at least 1515 after migrating from continental Europe.
The 1554 "Egyptians Act" banned gypsies from entering England and imposed the death penalty on those that remained in the country for more than a month.
From 1597, the Vagrancy Act reduced the death penalty to expelling anyone who led that "roguish kind of life".
Britain's attitude towards gypsies relaxed over the years. In 1968 the Caravan Sites Act ordered local authorities to provide sites for all gypsies living or moving to their areas.
This was the first time that the state had recognised responsibility to provide secure, legal stopping places for gypsies.
This changed in the 1990s when the Criminal Justice and Public Order Act removed the legal obligation to provide these sites and gave police eviction powers.
Currently it is up to gypsies to find their own sites however councils have to provide options for them.

Irish Travellers mainly came to England after the potato famine in the 1850s and then after World War II, when men came over to build motorways and work as labourers.

Many travellers, including those from Dale Farm, describe Rathkeale in County Limerick as their spiritual home, says BBC Look East correspondent Sally Chidzoy, who visited the Irish town earlier this month.

She said many Irish Travellers moved between the town and other traveller sites in eastern England.

Many Irish Travellers in the UK have been born in Britain and some now speak with British regional accents, says Grace O'Malley, from the Irish Travellers Movement in Britain charity.

Nomadic way

The term traveller refers to anyone who has a nomadic way of life. It can not only refer to Irish Travellers or Romany Gypsies, but also those who live on the road for economic reasons such as New Travellers or Showmen.

Having said that, about half of all gypsies and travellers nowadays live in houses, the other half live in caravans on private caravan sites, public caravan sites and on unauthorized encampments, says Mr Bowers.

Many gypsy sites have been built near rubbish dumps, sewer works or industrial sites.

"There isn't one gypsy and traveller culture, just as there isn't one single gypsy and traveller community," says Mr Bowers.

However, the way of life of living on the road means that there are "certain cultural things in common", he added.

Irish Travellers share some of the same cultural values as Romany Gypsies, such as a preference for self-employment, but there are also big differences, for example most Irish Travellers are Catholic whereas Romany Gypsies are Church of England, says Joseph G Jones from the Gypsy Council.

Irish Travellers speak a language called Gammon or Cant, a language which mixes Gaelic words with English.

"Broadly speaking it's basically the same community," says Ms O'Malley.

"There are different groups, but there are no huge defining differences other than accent and religion. They live together on council sites."

Big costs

Gypsy culture is built on strict codes of cleanliness, says Mr Bowers. Concepts such as mokadi and mahrime place strict guidelines on what objects can be washed in what bowls.

A gypsy caravan at an encampment near Notting Hill, London, circa 1877

Gypsies view gorgias (non-gypsies) as unclean because of the way they live. For example, gypsies and travellers rarely let animals inside their homes because they believe them to be carriers of disease, according to Mr Bowers.

They often value visible signs of wealth.

"Travellers having big cars can be summarised by the fact that they don't have mortgages, so they don't have the same cash outlay month by month (as the settled community)," says O'Malley.

"They don't have the same costs, and big costs (such as cars) are normally hire purchases."

Ms O'Malley added that communities also loan money out amongst themselves so people who appear poor could spend a lot of money on a wedding because the community has given it to them.

'Travel aimlessly'

The term traveller can also be misleading.

"It's the biggest misconception - you don't have to be a traveller to be a traveller," says Ms O'Malley.

"People are settling - the mother will settle in one place, while the father will travel around Europe working."

And Mr Jones agrees, saying: "they don't travel aimlessly; they go from place to place for a reason."

"Gypsies want a settled base from which to travel and where they can get access to education and health care for their families," adds Mr Bowers.

Legal and illegal sites

There are 18,383 traveller caravans in the UK on both legal and illegal sites
About 83% of travellers and gypsy caravans are on legal sites
Local authorities in London and in the North East of England have the fewest caravans in their areas
Across England a total of 3,109 gypsy and traveller caravans were on unauthorised sites, a reduction of 510 from 2010
Illegal sites can be common land or beside the road

Historically, gypsies and travellers do not attend schools as they see them as places where children will be bullied for their way of life.

"Gypsy and traveller pupils have the worst school attendance record of any minority ethnic group," says Ms O'Malley.

Girls are often expected to help at home caring for their younger siblings, whereas boys are often expected to be working with their fathers receiving, in effect, an apprenticeship in how to earn a living, says Mr Bowers.

Travellers or gypsies can have difficulty in Britain doing the jobs they used to do because they have either been replaced by a cheaper alternative, such as eastern Europeans undertaking agricultural work, or machines which have replaced what they used to do, according to Ms O'Malley.

"Much of their lifestyle has been made illegal as it now no longer possible to knock on front doors and ask people if they need any construction work, resurfacing or trees cut down," she adds.

As many do not have any education (although in recent years this is changing and more travellers and gypsies are going to school according to the Irish Travellers Movement in Britain) they cannot apply for licences to be able to do these jobs as they only have basic reading skills so instead they go to France, Germany or the Netherlands to earn a living.

Although different in many aspects, the fortunes of both groups are inheritantly intertwined in the public's mind.

As Mr Bowers, says: "The Romany Gypsy community will be reaping the whirlwind of whatever happens at Dale Farm."

[SOURCE: BBC.COM]
A judge, earlier today, ruled that the travellers on Dale Farm would be allowed to stay.

The London High Court judge ruled that the issue must go to another hearing, which caused celebrations amongst the Irish travellers.
can't wait to watch this tonight, watch the stupid gyspies get evicted.

i hate them. there are so many round here and i have witnessed them being racist, stealing, abusing animals and basically making everyone else's lives hell and ruining our beautiful area.

i always say this to people and they say 'oh i have met a nice traveller before, they're not all like that.', however they may be being nice to you but who's to say they havent stolen/been racist or abused someone before? 99% of the time they would have. they are born and raised to be aggressive and rude, they are taught that they are all better than us "gorgers".

i have known so many travellers in my time and i can say they are all the same. they might be nice to you, but they are all raised the same and they are all taught the same wrong morals.

i am not a prejudice person, i am accepting of all cultures, religions and races. more than most people i know, actually. but i will never, ever support or agree with a culture that is born of abuse and law-breaking.

i hope things can start changing, and that is why i'm watching this programme tonight and i'm a huge supporter of getting travellers out.

our country would be a much nicer, safer place for humans and animals if travellers were taught to live within the rules just like everyone else.

You are prejudiced, racist, white privileged and ignorant. Should I base my opinion of white people on just one or two people? How about… ooh let me see…. how about Timothy McVeigh? Or maybe… Jeffrey Dahmer? Outstanding members of society they were… wow yeah.  You say you are accepting of "all cultures and religions" except travellers. Your argument is a complete fallacy. You accuse travellers of doing things that members of YOUR society do on a daily basis. You have no idea of traveller culture (quite obviously) and your generalizations are ludicrous. They just make YOU look ignorant.

Travellers are not raised to be aggressive and rude; the way they are treated by you and people like you makes them aggressive and rude. When you're continually marginalized, discriminated against, forced to live in poverty and forced from your homes over and over… it can make a person feel pretty angry.

But you wouldn't know how it feels to live like that.

Why should travellers follow YOUR rules? Your rules do nothing for them. Why are the choices only integration or discrimination? You have no idea about their morals and how they are raised. They're raised a hell of a lot better than most 'gorgers' I know. 
Travellers and their supporters barricaded themselves behind newly built brick walls and chained themselves to fences today as bailiffs arrived to evict them from an illegal site in southeast England at the end of a decade-long battle.
One woman was chained by her neck to the main gate, while others lay down under cars or clambered up hastily erected scaffolding and wooden platforms as they waited for the bailiffs to arrive.
"If you attempt to open this gate you will kill her," one protester called Julia told reporters at the site. "All over the site, people are attached to immovable objects. If force is used, limbs will be broken or worse."
Banners draped around the caravans and low-rise buildings said "No Ethnic Cleansing", "Save Us" and "Justice". A police helicopter hovered overhead in the late summer sunshine.
The showdown between the bailiffs and travellers and a variety of protest groups who have joined their cause marks the climax of one of Britain's most contentious and bitter planning rows in recent years.
Basildon Council in Essex said last-ditch talks had broken down this morning after the travellers asked for the eviction to be delayed until November 22nd. Council leader Tony Ball said many families had already left and that bailiffs would enter the site to evict those remaining and their supporters as scheduled today.
" I am very disappointed we have come to where we are today ," he told reporters. " Our operatives, when they begin the site clearance, which will be today, will do everything they can to make sure that it is done in a safe and professional manner ."
The council said it was purely a planning dispute, with the travellers breaking the law by illegally building on the Green Belt, the band of countryside around London intended to stop urban sprawl.
However, the travellers say the argument's roots go deeper. They accuse the council and courts of breaching their human rights, targeting a vulnerable group whose choice of lifestyle doesn't fit in with the mainstream.
Actress Vanessa Redgrave visited the site to lend her support to the 400 travellers there and said she hoped "humanity would triumph". The United Nations' special rapporteur on adequate housing, Raquel Rolnik, urged the authorities last month to hold more talks with the residents to reach a deal on relocation.
Many locals support the eviction, however. They say the planning laws should apply to everyone and they have complained of litter and noise from Dale Farm.
The local authority wants to evict the travellers and clear the six-acre site after the courts ruled that they had settled there illegally.
Basildon Council issued a 28-day notice to them to leave the 51 pitches, built partly on a former scrapyard next door to a legal site, but the eviction was delayed by a last-minute High Court injunction. The legal battle appeared to end on August 31st when the High Court dismissed the appeal.
[Source: The Irish Times]
A number of travellers have moved from Dale Farm in Essex ahead of the eviction due to begin on Monday.

Basildon Council said about 12 families had already left the unauthorised site at Crays Hill.

A spokesman said preparations continued ahead of the clearance which is due to begin at 0800 BST on Monday.

Mass was held at Dale Farm and some people are said to have broken down in tears saying they were worried about the future.

"The operation will start with our contractors entering the site, asking the residents to leave, and offering assistance," the council spokesman said.

"The operation will be carried out professionally, and in a safe and lawful way."

The council expects more families to leave overnight before the clearance begins.

The planned eviction follows a decade-long row over unauthorised plots.

Prayers said

Up to 400 people are thought to live on the 51 unauthorised plots making it the UK's largest unauthorised travellers' site.

Father Dan Mason from Our Lady of Good Counsel church, Wickford, held Mass on the site on Saturday.

He said: "What was very distressing was seeing people upset, fearful, a few broke down in tears as they told me of their fears for next week.

"If people have another place to go we are encouraging them to go."

He added: "Some tell me they don't have anywhere to go and we are supporting them at this very difficult time."

Essex Police warned residents to expect a "significant increase" in police vehicles during the eviction, which is expected to last up to six weeks.

The police have set up a temporary base at Barleylands in Billericay.

Some travellers and supporters have said they will resist peacefully.

On Friday a last-ditch bid to halt the site clearance was rejected by an appeal judge.

He refused to allow a challenge to an earlier High Court ruling which denied the travellers a temporary injunction to stop their eviction.

[Source: BBC News]
Bailiffs are poised to evict up to 400 people from the six-acre stretch of green belt land in Basildon, Essex where they have lived without planning permission for more than a decade.

But fears have been raised that dozens of travellers could simply set up camp on nearby pitches without permission – effectively creating a second illegal ghetto.

Around 13 families have left Dale Farm already, and several are swapping their static chalets for touring caravans and plan to take to the road.

The remainder of the camp's residents have vowed to stand their ground when the bailiffs arrive on Monday, claiming that they have nowhere else to go.

But several of the families are known to own plots of land elsewhere in Essex, raising the prospect that they may move their homes there without permission.

Last night, Tony Ball, Conservative chairman of Basildon Council, admitted that there was a "risk" that travellers will set up illegal camps elsewhere when they are expelled.

"We know the travellers do own other pieces of land which do not have planning permission, but again they will be breaking the law," he said.

Cllr Ball added that the travellers have been handed lists of unoccupied legal pitches "up and down the country" as well as "many" private camp sites that would be willing to accommodate them for a fee.

There are around 5,000 legal pitches in England, but a survey of 30 local authorities found yesterday that almost all are running at full capacity.

The Dale Farm residents own the plot of green belt land on which they live, but it is illegal for them to set up caravans and chalets there without planning permission.

About half of the site has permission, and it emerged earlier this month that its 40 legal plots are only occupied for one month each year, casting doubt on claims that the travellers facing eviction face becoming homeless.

At least 12 families fighting to stay at Dale Farm reportedly own six double-size pitches at Smithy Fen, in Cottenham, Cambridgeshire, which could accommodate them.

Candy Sheridan, a traveller activist and Lib Dem councillor, has told council chiefs that some of the families are prepared to move to legal pitches they have recently bought in the Cambridge area.

But the majority of the Dale Farm residents were last night promising to "fight to the bitter end" to defend their camp.

Kathleen McCarthy, said: "They are treating us like animals, we never wanted to break this law, we had meetings, we begged Tony Ball, we wanted a peaceful solution, we wanted to find a piece of land but they couldn't find anything.

"We identified land and still they said 'no'. No matter how we try not to break the law we will never be able to win this".

I can't believe the way the local council and the British government are handling this… wait, yes I can. It's always the same. They decide to evict the Travellers (or Romani/Pavee/Romanichal) and then scrabble for legal reasons when people make a fuss. The information has changed almost daily—first it was that the whole site was illegal; then only half; then it was built on greenbelt; then they owned a couple houses in Rathkeale; then a whole housing estate; now it's that they only live there one month out of the year (REALLY?… and that would just happen to be this month would it?) The council claim that legal pitches are available immediately, but other councils deny this saying they don't "want" the travellers either…

The use of the word "illegal ghetto" just strikes fear into my heart. The term 'ghetto' was first applied to settlements where Jewish (and Roma/homosexual/black) people were "compelled" (ie: forced) to live. It automatically "others" the people there and forces a stereotype on them—that they are a danger to the majority population. The term 'ghetto' immediately conjures up one of two visions—the ghettos of WWII where targeted groups were held by Nazi forces; or the poverty-stricken inner city ghettos of the US fraught with violent crime and drug problems (due to unequal treatment by the government). The ghettoization of Travellers (and associated groups) in the UK therefore implies one of two things: They are an unwanted and unnecessary population; or they are a dangerous and 'different' population.

Either way it's a dangerous label for them.

It makes me sick to my stomach; sick to my heart; it reminds me that my lack of a clan gives me privilege. It means I don't have to face eviction threats and notices and taunts and jeers of settled folks.

I feel broken.
Travellers living on the UK's largest unauthorised site are expected to begin leaving voluntarily today.
At least one chalet, carried by two trucks, and eight caravans have been seen leaving Dale Farm near Basildon this week.
Residents say that while some feel it is their duty to remain on site and ensure the clearance, due to begin on Monday, is conducted lawfully, others will take "holidays".
One supporter based on Dale Farm, who gives her name only as Marina, wrote on Twitter: "A lot of thought being given to ensuring the children off site and safe during the eviction - should it come to that."
A traveller, who declined to be named, said: "This is our home and many of us have lived here for 10 years.
"There are a lot of us who are determined to stay and feel we have a duty to protect our homes.
"But we have to think about safety and it is likely caravans will begin to leave."
Bailiffs employed by Basildon Council are due to begin the clearance of 51 unauthorised plots on the former scrapyard on Monday.
It is estimated up to 400 people live on Dale Farm although this number fluctuates as residents travel on a seasonal basis.
About 50 homes neighbouring the illegal site have planning permission and will remain.
Last night Basildon Council leader Tony Ball sent an open letter to Dale Farm residents, saying: "I am taking this last opportunity to urge you from my heart to pack up your belongings and leave Dale Farm in a peaceful and orderly fashion.
"If you need any help to move please contact council officers and we will do what we can to assist you."
[Source: The Independent]
We urge the government to review its support for the planned eviction of Dale Farm Travellers' site until such time as culturally appropriate accommodation has been identified and provided. The UN committee on the elimination of all forms of racial discrimination has requested that the UK government suspend the planned eviction at Dale Farm and secure a peaceful and appropriate solution, including identifying culturally appropriate accommodation, with full respect for the rights of the children and families involved. We support the committee's request and urge the government to seek that Basildon, neighbouring councils in Essex and the residents of Dale Farm resume negotiations.
An amicable solution which respects the human rights of both the Traveller and the settled communities must be found. Such a solution should provide enough land for those families currently living on the 51 pitches which are subject to eviction. We strongly believe that the planned eviction is inhumane and will pose particular risk to the welfare of children, young people, pregnant women, and disabled, sick and elderly residents. The planned eviction does not provide a long-term solution to the issue and would be an unnecessary waste of £18m of taxpayers' money.
We urge the government to support a peaceful, long-term solution and to withdraw the funding allocated by the Home Office and the Department for Communities for the eviction of Dale Farm.
Yvonne MacNamara Director, Irish Traveller Movement in Britain
Andy Slaughter MP
Andrew George MP Chair, all-party parliamentary group for Gypsy Roma and Travellers
David Ward MP
Katy Clark MP
Alan Meale MP
John McDonnell MP
Chris Ruane MP
Lord Eric Avebury
Lord Nigel Jones
Baroness Janet Whitaker
Lord McKenzie of Luton
Baroness Elizabeth Deirdre Doocey
Baroness Dean of Thornton-le-Fylde
Lord Jeremy Beecham
Lord Hylton
Lord Rea
Lord Alf Dubs
Viscount of Falkland
Lord Roberts of Llandudno
Baroness Hussein-Ece
Shami Chakrabarti Director, Liberty
Bob Reitemeier Chief executive, The Children's Society
Simon Woolley Director, Operation Black Vote
Jean Candler British Institute of Human Rights
Rodney Bickerstaffe Former secretary general of Unison
Jennie McShannon Chief executive, Federation of Irish Societies
Patrick Yu Executive director, Northern Ireland Council for Ethnic Minorities
Vivienne Hayes Director, Women's Resource Centre
Anna Watson Friends of the Earth
Dr Rob Berkeley Director, Runnymede Trust
Rahana Mohammed Race on the Agenda
Rosie Bairwal Catholic Association for Racial Justice
Lee Eggleston Chair, Rape Crisis (England and Wales)
Tim Hopkins Director, The Equality Network
Elizabeth Sclater Secretary general, Older Peoples Network (Europe)
Debbie Kohner Committee on the Administration of Justice
Pragna Patel Director, Southall Black Sisters
Les Allamby Director, Law Centre (NI)
Barbara Cohen Director, Discrimination Law Association
Eleanor Lisney Disabled People Against Cuts
Sue Robson NEWomen's Network
Ratna Lachman Director, JUST West Yorkshire
Karen Chouhan Equanomics
Susan Alexander Travellers Aid Trust
Conn Mac Gabhann Irish Chaplaincy in Britain
Helen Jones Leeds Gypsy and Traveller Exchange
Niki Kandirikirira Engender
Dr Kevin McNamara Retired Labour MP
David Watkinson Barrister, Garden Court Chambers
Timothy Jones Barrister, No. 5 Chambers
Liz Davies Barrister, Garden Court Chambers, Haldane Society of Socialist Lawyers
Sister Patricia Bell The Institute of our Lady of Mercy
Sister Lynda Dearlove Women at the Well
Tony Lindsay Cambridge Racial Incident Support project
Bernadette McAliskey South Tyrone Empowerment Programme
Candy Sheridan The Gypsy Council
Siobhan Spencer Director, Derbyshire Gypsy Liason Group
Pete Mercer National Federation of Gypsy Liason Groups
Mrs Tanver Parnez Black & Ethnic Minority Infrastructure Scotland
Tim Brogden London Voluntary Service Council
It is being reported widely that some members of the clergy are getting hot under their dog-collars at the proposed eviction of Travellers from Dale Farm in Basildon. Among these concerned clerics are several progressive rabbis who recently visited Dale Farm to publicly decry the contentious eviction of the 86 Irish Traveller families.
The Traveller and Romany communities have a long and rich history as a nomadic people, yet they also have a long and painful history as victims of prejudice. Some of their cultural practices are incomprehensible to many, especially after those sensationalist TV documentaries. This lack of understanding has often led to a great deal of enmity from those who live near their settlements. Sometimes this friction overshadows the fact that the Travellers and Romany people, like the Jewish community, are recognised ethnic minorities with rights. Of course, these rights do not mean that they can ride roughshod over the law, but the proposed eviction at Dale Farm may have far more to do with nimbyism than with legal action.
One could be forgiven for assuming that Jews, Travellers and Gypsies have little in common; we are, after all, peoples of differing cultures and lifestyles. Although Jews and Gypsies in particular have coexisted across Europe for centuries, there are only very minor traditions, such as Jewish klezmer music, that have been influenced by our encounters. Yet it is our shared history as "others" and as victims of oppression which cannot be ignored. For an example, take the Gypsies' porajmos (from the Romany word for destruction) and our hurban (from the Hebrew word for destruction) – names for the Holocaust where Jew and Gypsy alike were forced from their homes, too often to their deaths. It is, of course, quite ludicrous to compare the Holocaust with evictions at Dale Farm, but the plight of the residents has drawn a number of rabbis prepared to champion this cause.
A primary factor is the language being bandied about, especially when some of the terminology is nothing short of racist. Our communities have experienced being labelled as an underclass, they have been the victims of "acceptable" discrimination and dehumanised by language. Yet our concern should also be directed at the misuse of inflammatory language by those opposing the eviction. To label this process as "ethnic cleansing" is to confuse a heartless situation with genocide.
Alongside the disturbing language there are increasing concerns that the residents are victims of discrimination. It is clear that half the site is a legal, privately owned, Travellers camp. The other half is also owned by Travellers but lacking planning permission. Their land is located in the greenbelt, but the site was not some unspoilt patch of countryside, it was a scrap yard.
We cannot and should not ignore the legalities; a violation of greenbelt planning policy is against the law. Jewish teaching maintains the principle that "the law of the land is the law". While it is understandable for Basildon council and local residents to feel that they must challenge illegal construction, is that the only reason Dale Farm is in their sights?
Jewish law calls on us to show empathy not enmity for others, for we too have experienced hardship and suffering. As the UN pointed out, Basildon council's actions should not proceed at the expense of fragmenting a community. This is especially true of plans that involve relocating many of the evicted Travellers, including children settled in local schools.
There are also reports that the full cost of the eviction may exceed £18m; an astronomical sum in these economically challenging days of hefty public service cuts. Yet it is not the fiscal costs that ultimately concern me, it is the refusal to look beyond the letter of the law at the suffering of others. As I am reminded by my tradition, "to execute true justice, show mercy and compassion to one another" (Zechariah 7:9).
• This article was commissioned after a request by ZhengHe.
DALE Farm travellers threatened with eviction vowed today they were going nowhere as hundreds of supporters marched to the site to give their support.
The travellers declared they "just want the right to stay in our own homes" as BasildonCouncil plans to begin clearing Dale Farm after a decade-long dispute over unauthorised properties at the former scrapyard.
A combination of travellers, their supporters and human rights groups took part in the noisy but non-violent demonstration from Wickfordrailway station to a rally at the settlement.
They marched behind a banner which read "No Ethnic Cleansing At Dale Farm". Others held placards and flags which included the slogans "Don't Make Us Part Of The Housing Problem" and "Basildon Council Shame On You".
Officers from Essex Police escorted the protest on its three-mile route as local residents and Saturday afternoon shoppers looked on.
The Dale Farm residents who took part in the march voiced their anger at the evictions, which are due to begin on September 19.
Basildon council plans to begin clearing Dale Farm after a decade-long dispute over unauthorised properties at the former scrapyard.
Although half the site is legal, more than 80 properties have no planning permission and about 400 people are said to be living there illegally.
Today's rally featured speeches from a number of the travellers' supporters, including Labour MEP Richard Howitt.
He told the protesters that he had helped ensure a debate on the issue will take place at the EU Agency for Fundamental Rights in Vienna, Austria on Thursday.
"Only international pressure can make a difference now," he admitted.
Mr Howitt said after his speech that he wanted Dale Farm to be considered by the EU advisory body because "we have to explore every option right up to the last minute".
[Source: Echo]