Europe's Roma are paying a high price amid the spiralling economic crisis, the head of the Council of Europe said Tuesday, warning that many more were likely to head westward as conditions deteriorate in the East.

"Minorities in Europe are coming under a lot more pressure than they have in a long time," Thorbjoern Jagland said in an interview with AFP ahead of an address at the UN Human Rights Council in Geneva.

"The tensions are really growing," he said, speaking in his native Norwegian.

"Many more Roma will be coming westward because the situation is so dire where they live" in the East, he said, pointing out that "when times are rough, it is the minorities who often suffer the most from economic hardship."

At the same time, the Roma are often used as scapegoats in countries facing crisis, with other inhabitants blaming them for taking low-wage jobs or receiving benefits.

The situation is worst in countries where the majority of Roma live, such as Romania and Bulgaria, said Jagland, who is also the chairman of the Norwegian Nobel Committee that hands out the prestigious peace prize.

Romania has the biggest Roma minority in Europe with 620,000 people, according to the latest official census more than two million, according to NGOs while as many as 700,000 Roma live in Bulgaria.

Most live in poverty and suffer severe discrimination in the employment and health care sectors.

"When you see the conditions Roma are living in here in Western Europe and they say that it is better than where they came from you start getting an idea of what conditions are like back home," Jagland said.

But tensions are also growing in Western countries, which increasingly are becoming unwilling hosts for impoverished Roma seeking a better life.

And when EU migration rules are relaxed on January 1, 2014, many more are likely to make the trip, Jagland said.

"I think there is reason now to send out a warning to all countries in Europe about what they have in store," he said, cautioning that "this situation with the Roma can become very uncomfortable in Europe."

The 47-member state Council of Europe has noted growing tensions in a number of German cities and in France, where nearly 12,000 ethnic Roma were evicted from makeshift camps last year.

Jagland stressed the need for Western countries to prepare for an influx of Roma and to improve conditions for those already in those countries, but lamented that many seem reluctant to do so.

He said despite the glaring needs of Roma both in eastern and western Europe, governments were barely tapping into the funds the European Commission makes available to help such populations.

"This should be a political priority, but countries are not using the funds available. I don't know why. Probably because it is not very popular to do things for the Roma," he said.

Not all is bleak however. Jagland emphasised that Spain was a good example of how a country can successfully integrate Roma.

"The Roma there are accepted as regular citizens. The children go to school. They are involved in cultural life," he said, pointing out that Roma did not seem to be disproportionately affected by Spain's deep economic crisis.

That is not the case in many other countries, he said, cautioning that Europe seems to be headed towards a new period "of inherited prejudices that come to the surface in a hateful way when social conditions deteriorate."

The New Age Online

Photo: ИТАР-ТАСС
The Russian Federation's government in 2013 intends to begin improving the image of Roma and their process to socio-economic integration. The cabinet has already approved a comprehensive plan that will incorporate the ethnic group in a number of cultural, educational and business projects.  The newspaper "Известия" (Proceedings) writes on 20 February.
According to a government source, this is the only "comprehensive ethnic-oriented programme" in Russia. "There is not such a programme for other ethnicities. Roma, especially, are adrift and in need of care in the nation-state", said the newspaper.
The document provides the establishment of television films and programmes, which will tell the history of the Russian Roma and the "problems of integrating into a modern society". In addition, the government will organise a press conference with Roma leaders from the autonomies.
The ministry of regional development and the regional governors have mandated to help the Roma that would like to do business. Potential entrepreneurs will be trained and advised. In addition, Roma businessmen will receive benefits on the receipt of communication channels and the purchase of office equipment. Free legal advice centres will be open for them; however, for those without documents, there will be a simplified process organised to issue passports.
A separate unit of government will be designed to address the problem of neglect and lack of education of Roma children. A special alphabet-learning-book will be developed to help teach them the Russian language. Younger students will receive textbooks on the Romani language. In placed where Roma live, youth clubs will be opened, which will teach traditional crafts, such as the blacksmith business, horse breeding, sewing, embroidery and weaving.
The documentation notes that under the members of the Roma community, there will be tightened control to help stop the spread of drugs.
According to the national census of 2010, there are more than 200 thousand Roma living in Russia.
A workshop on reducing stereotypes and prejudices between Roma and non Roma in Razgrad region was organized by Integro Association and regional administration of Razgrad on 29 and 30 of January 2013. Members of 6 municipality administrations, local councilors, servants of public services and Roma NGO activists came together to discuss the situation and indentify the main problems of Roma population from the region. 
The workshop gave opportunity for identifying and debating the main stereotypes existing of each other among the Roma and non-Roma population as well. Prof. Ilona Tomova from Bulgarian Science Academy's Institute for population and human studies presented the findings from in-depth interviews and opinion survey, held in 2012 in Razgrad region, on interethnic relationships and attitude towards Roma. One of the main findings of the research was that social distances between ethnic groups in Razgrad are shorter than in the other part of the country. This appears to be an opportunity for reaching real effectiveness in realization of the Roma integration policy in the region.
The event gave opportunity also the participants together to look for possible measures and steps that should be taken by municipalities, NGOs and regional administration in order to tackle the problems faced by Roma community. All this finally contributed for the efficiency of regional strategy planning that is going currently in Razgrad region. 
The workshop was one of the three workshops planned in the frame of the project "Identifying and Reducing Prejudices as a Source of Conflict between Roma and Non-Roma Population - Cases of Bulgaria, Italy, Romania, and Slovenia Compared – REDUPRE", co-finance by the EU fundamental rights and citizenship program.
Lawen Mohtadi, born in 1978, is a Swedish journalist with Kurdish heritage. Her parents came to Sweden as political refugees. She had worked as a freelance reported at SR, as well as at a number of newspapers. She was the editor in chief for the culture magazine Bag between June 2008 and March 2011.
 In 2003 she was named "Media Rookie of the Year" and rewarded with 25,000 kronor of Swedish journals. Now she has written the book on Katarina Taikon, which has become highly acclaimed.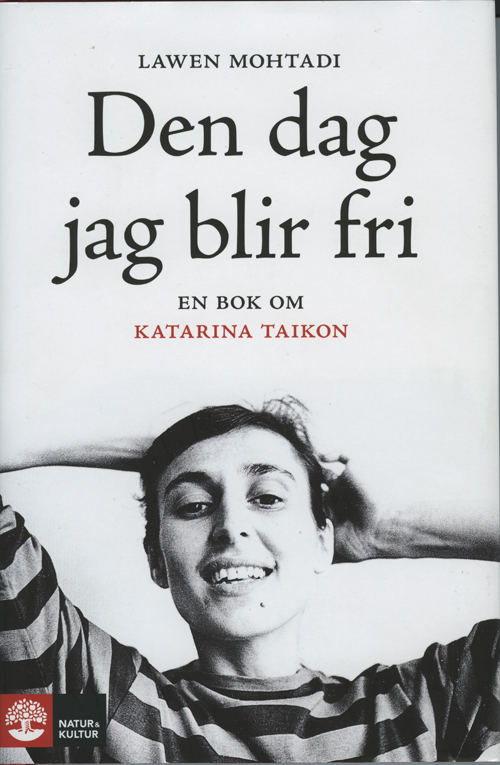 Lawen talked about how she first got the idea to write "Den dag jag blir fri" (The day I become free), a book about Katarina Taikon, at the book's release at the Södra Theatre in Stockholm.
"It was in 2005 that I went down in SR's library and saw a book cover with Katarina's photo. The book is, among other things, the battle with Ivar Lo Johansson. After I had seen the photo, I was hooked. I discovered that there was nothing written about Katarina and made contact with Rosa Taikon, her sister."
When the book "Zigenare" (Gypsies) came out in 1963, it lead to a big debate.
"Katarina clearly described the Romas' situation in Sweden who even now continue to live in camps and are not allowed to go to school."
Katarina also wrote in the book about Ivar Lo Johansson who met and interviewed Roma.
"She criticised him for his view of Roma, which looked at Roma as an exotic element in Sweden, something she absolutely could not agree with. The book got a big impact mostly because she criticised one of Sweden's most famous writers."
Lawen soon realised that she had to start her research from scratch.
"My resources were Rosa Taikon, her family and close friends. Talking with them about what happened 50 years ago brought up strong emotions."
She draws a parallel with Martin Luther King.
"There was both happiness and frustration in Katarina's life and work. Many times it was both brutal and hard. In 1964, she met Martin Luther King. Her work was in its constructing phase then."
The questions that Katarin drew were on schooling and housing issues.
"At the time, Roma lived in camps. She was about to empty them and obtain flats for the Roma. I knew that this was a story of discrimination, but I had no idea the wave of antipathy that came when the Roma began moving into the flats in the 60s, a time when welfare was abundant, but not for Roma. It was not evident that all men would be part of the wellfare committee.
Although Katarina originally sympathised with the Social Democrats, she later left them.
"She was disappointed in how they discriminated against Roma. In the late 60s, she criticised the Social Democrats in the strongest terms."
Lawen believed that Katarina had been very important for the Romas' situation in Sweden, especially in terms of housing and school issues. She also raised Roma on the political agenda and made them visible in the social arena.
"She made the Roma visible for the first time. There is only one Katarina Taikon, but there are many who are inspired by her work, myself for example. The book on Katarina."
A founding member of Hungary's governing Fidesz party has been sharply criticized for writing a newspaper column that contained offensive remarks about the nation's Roma minority.

Writing about a New Year's Eve bar fight in which several people were seriously injured and some of the attackers were reportedly Roma, the journalist Zsolt Bayer said "a significant part of the Roma are unfit for coexistence. They are not fit to live among people. These Roma are animals and they behave like animals."

Bayer's commentary in Saturday's Magyar Hirlap newspaper criticized the "politically correct Western world" for advocating tolerance and understanding of Roma, who make up around 7 percent of Hungary's 10 million people and often are among its poorest and least educated citizens. Roma also are known as Gypsies.

Justice Minister Tibor Navracsics criticized the article on Monday night.

Opposition parties said authorities must decide whether Bayer should be prosecuted for incitement against a minority and urged Fidesz to expel him. If that doesn't happen, opposition groups have called for a protest on Sunday outside Fidesz headquarters.

However, Fidesz spokeswoman Gabriella Selmeczi said at a news conference Tuesday that the party will not take a position on an opinion piece. "Zsolt Bayer wrote this article not as a politician but as a journalist, and we don't qualify the opinions of journalists," Selmeczi said.

(Source.)
Mukhas te dzanen sarine kaj
o "8 Aprili Ushtiben" (8 April
Movement) nane nevi organizacia.
Ni kamas te keras "nevi organizacia".
Nisavi. Salde te dikhas sar t'ovel maskar
amen, sarinen, polachi koordinancija.
Jekhipe - ko godi.
O razismos bajrola. E neve-fasistora,
e gavutne, vi e themutne, panden amaro
drom.
Odoleske isi amen te ikljovas sar jekh
ko Romano Themutno Dives (7 -8
shtartonaj 2013).
Te manglan, bichal emailoro ko
kote shaj des tiro anav thaj
nevipe taro tumaro protesto
ko 8 Shtartonaj/8 Aprili
tumare dizate.
A dureder, te zurjaras amen isi te dikhas
sar shaj te keras demokratichni
transformacija. Phucel pe, sar ko komputer,
ko interneto, o Roma shaj alosaren
pumare delegatoren, sherunen.
Agjahar te ikjloven maskar amendar manusha
save isi len baro, chachuno mandato e romane
narodestar. Dzikana nane amen asavke. A o
komputer, e mobilesa, ka del amen.
Ko komputer shaj keras virtualno mandato;
jekh miliona, panch miliona, vi desh miliona
manushendar.
Nane amen ni phuv, ni them. Ama isi amen
hakija/derecho te keras agjasavo mandato,
savo k'ovel Romano Themutno Mandato.
Isi amen mitingo ano London ko 14/1/2013
duje butjenge:
1) Vash o Romano Themutno Dives:
Te kidas amen ko Purno Kurko (7 aprili);
ano parko - odothar te dzas pirindor romane
bajrakens/flakensa/zastavensa
2) Vash o Demokratichno Transformacija.
romanationday.org/
How much more time will pass before Roma and Sinti ("Gypsies") are sufficiently, publicly and regularly recognized as one of two ethnic groups slated for complete extermination in the Holocaust? What will it take for Holocaust education to include Romani persecution in a way that teaches not only who Romani people are, but also the very relevant continuities in European Nazi ideology?
As a Romani descendant of Holocaust victims and survivors, I was an audience member at the United Nations Holocaust Remembrance events, located in the New York City UN headquarters, in 2009, 2010, 2011 and 2012. In 2009, during the Remembrance week in January, there was an exhibit and event on Hungarian Roma in the Holocaust at the Hungarian mission to the UN. It was attended almost exclusively by Hungarian dignitaries and people connected to them. (See http://www.romea.cz/english/index.php?id=detail&detail=2007_1155) The effort's significance in the Hungarian context must not be discounted, but its educational value to the larger public was virtually nonexistent. The UN Remembrance ceremony proper subsequently failed to include Romani victims by the name of their ethnic group, with the exception of a brief mention. It is important to note that these annual ceremonies are 1.5 to 2 hours long. They have included as speakers or performers not only key UN figures and Jewish representatives, but also scores of people from other ethnic groups. At least some of these time slots could have been – and should be – given to Romani participants. 
Indeed, following written protests from Romani people and supporters, as well as a meeting between myself and Ms. Kimberly Mann of the UN Holocaust Outreach Programme, the Polish Romani representative Andrzej Mirga was flown over to give a full-length speech at the main New York City event in 2010. The Romani community and survivors were very grateful for this. However, we must ask why such representation stopped again as quickly as it started. The substantive inclusion of Romanies has not been replicated in the UN lobby exhibits or in any other UN-sponsored program during or since that time. We need to see not a one-time token gesture but rather a permanent change in approach.
In 2011, the Remembrance event included a brief video testimony from a Romani survivor. However, once again no Roma or Sinti had been invited to participate, and as usual the Holocaust and its aftermath were implicitly defined as an exclusively Jewish matter. More often than not, the world's media reify this inaccurate definition, a practice that is unlikely to change until a different tone is set in the most publicized official commemorations.
In 2012, for a minute or so out of the entire program, a Sinti person was featured, again only on the screen. It was Setella Steinbach, whose story was recounted as part of a string of portrayals of child victims. Setella had long been shown in Holocaust-related materials as a Jewish victim, so it was most appropriate and appreciated that her true identity was recognized at this time. Unfortunately, several other mentions of child victims in the program, which as a whole centered around children of the Holocaust, referred to young victims as if only Jewish children had been involved. Later in the program, a parallel on-screen display was shown, honoring specific Jewish Holocaust survivors and their contributions to society. The absence of a single Romani survivor was a stark reminder of the widespread idea that Roma and Sinti have few cultural merits, in addition to being unworthy of participation in Holocaust remembrance planning. Had any of us been asked, at the very least, for a suggestion, a prominent Romani/Sinti Holocaust survivor easily could have been included in that part of the event.
As just one example of Holocaust commemoration utterances that ring painfully hollow to Romani survivors, their families and communities, many of whom are endangered by neo-Nazi activity daily, I will mention the speech made by Prof. Robert Krell. Overall, it was a moving talk in which he spoke not only of wartime atrocities but also, quite astutely, of post-war reverberations in survivor families. He spoke of the need to keep memory alive, to educate, and to be aware of the present-day effects of racist ideologies. Similar speeches are given each year (not only at the UN), and yet it is very rare that the author thinks to mention the very obvious, very real and very destructive link between the ideology that led to the Holocaust and the neo-Nazi and other racist dogmas that continue to keep Romani people segregated, poorly educated, and frequently unemployed. Rampant discrimination, not to mention the deportation of Romani refugees, is endemic to the same countries where anyone of even one-eighth Romany blood was legally singled out for extermination in the events being commemorated. Because of anti-Gypsyism, Roma and Sinti are at constant risk of physical attack in Europe, not to mention interethnic tensions in certain parts of New York City and other places. And beyond the risk of physical harm, they face a kind of constant discrimination that can easily slip into more dangerous hatreds, and which proper commemoration of the Holocaust ought to discuss. Neither the United Nations nor the annual United States Days of Remembrance in Washington, D.C. have succeeded in this regard.
How can these speakers, one after the other, call for effective Holocaust education without so much as mentioning that the Romani population, currently Europe's largest ethnic minority, was decimated during the war – exterminated in proportions similar to the Jews according to Simon Wiesenthal and many other historians – and presently subjected to experiences such as "Gypsies to the gas!" graffiti (even on playgrounds) on a regular basis? How can teachers and professors call themselves Holocaust educators when most of their students, when informally polled, still have virtually or absolutely no idea who "Gypsies" or Romanies actually are? These issues, so absurd and ironic that the lack of logic surrounding them should be patently obvious, were once again brought up for the Romani audience members listening to Prof. Krell's speech. One sentence, however, stood out in particular: when speaking of Einsatzkommandos in Lithuania, Prof. Krell referred to over 100,000 Jewish victims "and a few others." According to Martin Weiser, Lithuania was one of the countries in which "almost all Gypsies were killed." Their ethnic group has a name, and it is not "some others." Their families have suffered as much as Jewish families have. However, what really caused the Romani audience members (and at least one Jewish attendee we know of) to look at each other, stunned, was the flippant tone in which Prof. Krell pronounced "and a few others." What could have been a highly effective speech was thus tainted with hypocrisy.
In this most recent commemoration, any mentions of Romani victims were once again so minor that a Jewish woman, who had just attended the entire event and whom we met afterward, had no idea who Roma were and what they had to do with the Holocaust. She came up to one of our group's members and asked what her sign meant. We were each wearing a large brown triangle with the inscription "Gypsy" (with quotes) in front, and a large Z with the word Zigeuner on our backs. The woman was upset that she had never been told about the other group slated for extermination in the Holocaust, and wondered aloud about the Holocaust education she had received, as well as about the program she had just seen. She called the situation "disgusting." Eventually, she introduced us to a gentleman who was identified as one of the event's organizers, and she briefly explained why we were standing there with signs. I did not catch the man's name, as there was a bit of a commotion and he then quickly disappeared. He was eager to point out that a Romani speaker (meaning Andrzej Mirga) had been invited two years ago. I calmly countered that we expect to be included every year, and to have a Romani speaker, musician, or both, for at least five minutes out of the lengthy program. His reply was negative. At this point I said, "This is untenable. It's morally untenable. It's academically untenable. And it's historically untenable."
This is what I and many, many other Romani community members firmly believe. We are asking not only for a token mention but for inclusion in the organization of commemorative events and the preparation of educational material for schools. Right here on the East Coast, there are Romani academics, musicians, community leaders, survivors and/or relatives of survivors who have never been asked, but who very much want to be involved. Even if we accept the most conservative estimates for Roma and Sinti murdered in the Holocaust (in the hundreds of thousands), allowing Romani representatives a real five minutes each year in a ceremony that lasts up to two hours would hardly be disproportionate. These same people might be consulted to assure that new materials released into schools and media outlets actually explain enough about who Romanies are and what happened to them – a level of awareness with the potential to mean that the Romani victims of the Holocaust did not die entirely in vain. Again, to deny us such input and participation, in an effort that is aimed at learning lessons, at telling the hard truths about history, and at guaranteeing "never again," would be morally, academically, and historically bankrupt
 Petra Gelbart, Ph.D., New York University
Postscript, November 2012: The UN Holocaust Outreach Programme recently held an event discussing both Jewish and Romani mass graves in Eastern Europe. Four panelists were invited; none of them was Romani. Two of them stated, inexplicably, that the Romani experience was separate from the Holocaust. When questioned about the inclusion of Romani people, the head of the Programme claimed that Romani representatives are being invited and consulted, adding in the same breath that "a Roma expert" is being flown in for teacher training. This person is indeed an expert and I welcome his input, but, contrary to what the audience at this event was led to believe, he is not Romani. Many letters of protest have once again been sent by Roma/Sinti, Jews, and others, but we have yet to receive any real response regarding plans for the regular inclusion of voices coming from Roma and Sinti themselves.
Petra Gelbart, Ph.D.
Prague, 15/11/2012 - "The "practical schools" in the Czech Republic perpetuate segregation of Roma children, inequality and racism. They should be phased out and replaced by mainstream schools that need to be properly prepared to host and provide support to all pupils, irrespective of their ethnic origin. There are certain examples in the country that show the feasibility of this necessary paradigm shift, which will require the government's political will and sustained commitment", stated the Council of Europe Commissioner for Human Rights, Nils Muižnieks, after his four-day visit to the Czech Republic.

The Commissioner visited an elementary school in Kladno, near Prague, which has a capacity of 309 pupils but currently hosts only 93 Roma schoolchildren. "This big school is an example of the ethnically segregated practical schools for which the Czech state spends more than double the expenditure ofmainstream schools, while their graduates as a rule end up unemployed and dependent on state benefits". Commissioner Muižnieks regretted that five years after the D.H. judgment by the Strasbourg Court's Grand Chamber, the violations found therein have not been redressed. "I urge the Czech government to provide a realistic budget, concrete timeline and indicators in order to bring to an end the vicious circle of segregated education that affects Roma children and costs the whole country so much , both financially and socially. The commitment expressed by the Ministry of Education to fully execute the D.H. judgment and provide quality education to Roma is promising and needs to be fully supported".
Commissioner Muižnieks welcomed the Interior Ministry's ongoing efforts to enhance pluralism and participation of members of national minorities, including Roma, in the Czech police forces. "I was interested to learn that seven more Roma graduates are expected to earn their degrees next year from the police academy, and that there is cooperation of the police with a group of Roma assistants. These are trust-building measures and good practices that reinforce social cohesion and harmonious inter-ethnic relations, so much needed in a country where incidents of racist violence and intolerance are far from uncommon". The Commissioner was also pleased to note that the Czech Republic will soon accede to the Additional Protocol to the Council of Europe Convention on Cybercrime concerning the criminalisation of acts of racist and xenophobic nature committed through computer systems.

During his visit Commissioner Muižnieks also visited the psychiatric hospital of Bohnice, the largest such institution in the country accommodating some1 300 patients, and held discussions with experts on the human rights of persons with intellectual and psycho-social disabilities. "The judgments delivered by the Strasbourg Court in the cases of Ťupa and Burešin 2011 and 2012, as well as my discussions with experts, make clear the need to overhaul and transform psychiatric care in the Czech Republic. Promoting de-institutionalisation, fully protecting persons with disabilities from involuntary hospitalisation through effective judicial review, and preventing and eliminating ill-treatment of persons deprived of their liberty are priority tasks".

The Commissioner noted that each year in the Czech Republic around 2 000 persons are stripped of their legal capacity. "New legislation that will enter into force in 2014 appears to be a step in the right direction, providing for abolition of full deprivation of legal capacity and the review by courts of around 22 000 such cases. However, this is a herculean challenge that requires sustained efforts to properly train and inform all legal and other professionals who will be called upon to apply the new law and give effect to the standards contained in the UN Convention on the Rights of Persons with Disabilities, a key human rights treaty that binds the Czech Republic. In this context, the government needs to consult and make full use of the valuable expertise of specialist national non-governmental organisations".

The Commissioner's report on this visit is forthcoming.
Read earlier reports on the Czech Republic here 
NDR states that Schleswig-Holstein has become the first federal state in Germany including the number of Roma and Sinte demanding state support of national minorities. Wednesday, 14 November, the local Landtag unanimously made the appropriate changes in the state's constitution.
Now Roma and Sinte living in Schleswig-Holstein have the same rights to protection and support as the Danish and Frisian minorities. There are currently around five thousand Roma and Sinte on the federal territory. The first written documentation of them in this region appeared in 1417.
The chairman of the central council of German Roma and Sinte, Romani Rose, announced the Landtag's historical decision. In his words, this should serve as an example to the entire European Union, where there live around seven million Roma [and Sinte, and other sub-groups].
At the end of the October, the first German memorial to Roma and Sinte victims of the Naxi dictatorship opened in Berlin. The memorial is a black granite bowl filled with water, and in the centre of the bowl is a stele on which a caretaker places fresh flowers. During WWII, the Nazis killed around 500 thousand Roma and Sinte.
Inhabitants of Hrabušice and Spišský Štvrtok, both located in Košice Region, protested against relocating Roma from a Letanovce settlement to newly built blocks of flats situated near their villages, the TASR newswire reported on November 4.
"The gathering was not racially motivated," Ján Greš, the mayor of Spišský Štvrtok, told TASR. "This is only about expressing our disagreement with moving the people of Letanovce settlement to the newly-built area of Strelníky."
Greš estimated that around 500 people came to the protest.
The protest remained peaceful, with the attendees agreeing that a petition will follow. Greš said that a petition committee will be set up and the signatures will be submitted to the government proxy for Roma communities Peter Pollák.
Locals say they are worried that if Roma from the Letanovce settlement are moved to the outskirts of their villages, it will result in a higher crime rate, among other problems. Greš also said that the village does not have any significant problems with Roma who already live in the village, as they work with the community, but they fear what will happen when people from the settlements join them.
"We [Hrabušice and Spišský Štvrtok] take care of our Roma people, we integrate them into normal life … teach them to live responsibly," Hrabušice mayor Jana Skokanová told TASR. "Conversely, Letanovce village has been addressing the problem since the first moment by segregating them [the Roma] to the outskirts of the village - and now 2km away."
Letanovce mayor Michal Urban denied claims that he is merely transferring the "problem" to other villages, saying, "these Roma people will be provided with everything they need". He added that he does not see any problem regarding the relocation, TASR wrote.
The village has already invested around €3.2 million into the new 96 housing units. They have been completed since 2010, but have remained unoccupied until now. Yet, the number of the local Roma from the settlements currently reaches 1,500, therefore further construction works will have to be carried out, for which the village needs an additional €320,000.
Source: TASR
Reporter: Roma integration in Bulgaria
The Roma account for 6.5% of Bulgaria's population, in total, about half a million. As elsewhere in Europe, they face discrimination and poor living conditions. Far right groups have targeted them, and their lack of access to health care has brought a formal complaint against the government. This café, in the Hristo Botev area of the Bulgarian capital, Sofia, is a Roma-run enterprise, attracting a Roma clientele. Most people living here are Roma. It's not the sort of housing you'd expect to find in the capital of an EU Member State. We've got no bathrooms here, no toilets. Our roads are in a terrible state. Everybody is sick and we don't have money, no social security cards so that we would be like other EU countries. We'd like to be at least a bit… Health insurance is a big issue. The Bulgarian government changed the rules, making it essential. But anyone without work and not on social benefit cannot obtain it. Which makes it very hard for people like Desislava Krasmirova, even though she has both an education and a job. Without insurance, we have to pay 20 to 30 leva for a consultation with a doctor. I don't know what it's like for the others, the attitude towards them is different, but every time they see us, gypsies, they say, 'pay or get out'. The others don't get that treatment. The situation got so bad that a complaint was lodged against the government by a Budapest-based NGO under the Council of Europe's Social Charter, a 50-year-old treaty on basic civil and human rights. But the Roma are used to being victims of discrimination and the 13 billion euros of EU aid spread across 10 countries for 2007-2013 haven't brought the hoped-for changes. There is a lot of corruption. This may be the case but it's not the only thing, and usually we have to be prepared for a long run, because to me the first and most important target is education, along with different forms of integration in terms of social practices. Miroslav Stefanov is mayor of the Filipovtsi area of Sofia. He was appointed by GERB but says he has little power to change things, although he's proud that Filipovtsi doesn't have the drug problem common in the city. He's disillusioned with politicians, who only seem interested when canvassing for votes, which are often sold to the party that pays the most. They are well aware of the problems in Roma neighbourhoods, most people are aware of them, but they're determined to keep the conditions so that it's easier to manipulate us during election time. Many times they have been promised milk and honey, but it doesn't happen to them because the money is not going to the right targets. They are not set up to meet the needs of these people. Antonyia Parvanova regrets that the Roma lack role models, and that will take time: youngsters need to see the possibility of a better way of life. Vasil Chaprazov edits a newspaper for his fellow Roma in Sofia. Like other leading members of Roma communities, he sees getting a job as the vital first step, but that means getting an education. The thing that can really change people's lives is economics, the possibility to work and to keep one's dignity through earning enough money. There is a lack of understanding of the Roma: at least eight tribes with different traditions and faiths. Throwing money at the problem won't make it go away. EU institutions need to understand better what the problems are and how the Roma see their world.
In 2011 for first time Center Amalipe organized "Roma Pride" campaign, part of a European initiative Egham (European Civil antiracist movement) "Roma Pride".  The campaign was organized under the slogan "My dream for Bulgaria - to learn and live together".  In 2012  Centre "Amalipe" is organizing the same campaign under the same motto. The campaign will be held throughout the country, as it will involve hundreds of students, teachers and citizens. The campaign will be organized by the Centers for Community Development – Amalipe, which are structures formed in 11 municipalities in eight districts.

The campaign in Bulgaria is part of the Roma Pride campaign, which will take place in most countries of the European Union on October 7 (Denmark, France, Portugal, Italy, Croatia, Czech Republic, Poland, Romania and Bulgaria, as well as Norway, Serbia Montenegro, Ukraine and Turkey). A coordinator for the bulgarian campaign is Center  Amalipe and the Bulgarian Helsinki Committee.  The events will be held from 4 to 8 October.
Veliko Tarnovo district: As expected the biggest events will take place in district Veliko Tarnovo between 4 and 8 of October.2012. . Roma Pride Film Fest will take place in the old capital of Bulgaria with the support of the French Embassy in Bulgaria, the organization VT EVENTS  and Melon live club - "Summer Art. Different movies on Roma themes will be shown within the festival. The first day of screenings is dedicated to issues related to the interaction between Roma people and the majority of the society.   The second day is dedicated to domestic issues in the community, and the last – to the Roma traditions and customs. Films from France, USA, Romania, Bulgaria will be shown within the festival. The film festival will start on 5th of October at 16:00 o clock (4 pm) with screenings and discussions in art club "Hedgehog" (Taralej). Later, the same day, at 21:30 (9.30 pm) on the stage of "Art Summer" the program will continue with "Karandila-Juniororchestra concert." The film screenings during the three days will be held in Club "Hedgehog"(Taralej) at 16:00 (4 pm) and continue until 20:00 (8pm) with discussion. For more information visit the web site:http://vtfilmfest.wordpress.com/
In Strazhitsa on the 05.10.2012 in the Municipality will be held  an exhibition of Roma crafts and traditional Roma wedding dowry. An exhibition of paintings, Bulgarian national costumes, Roma and Turkish traditional costumes ,old fabrics and  towels will be held in the village of Ledenik.Volunteers will demonstratethe techniques of kalaidisvane of  a pot and will  present of traditional Roma Kalaydzhiyska engagement. Children from the village will sing and dance traditional Bulgarian and Roma and Turkish songs and dances. In the village of Vodoley on October 5, 2012 in front of   the City Hall has been organized an exhibition of old products – damadjani (large bottles) and bowls,  woven house slippers, scarves for prayer which are specific for this area and traditional Roma costumes. In Kaltinets neighborhood, Gorna Oryahovitsa municipality on October 6, 2012, at "Amalipe " local club and community center "Probuda" will be held an exhibition of postcards, drawings, wickerwork, articles of Burgudjii Roma group, aprons and headscarves which are specific for the group Burgudjii. In Pavlikeni on October 5, in the National Cultural Center "Bratstvo"("Brotherhood")  and Center for Community Development ,Pavlikeni will be shown an exhibition of old utensils, dishes, tools and traditional costumes representing the lifestyle of different ethnic groups in the municipality.

The events in Veliko Tarnovo district will be organized by the Centers for Community Development in Pavlikeni, Strazhitsa and Veliko Tarnovo, as well as Amalipe local clubs formed in the villages of these municipalities.
Sofia Region: In the town of Dolna Banya will be held the contest "Roma celebrations today".The participants are children from grades 1-4, who this week will be drawing pictures representing  Roma holidays. On October 5th 2012, these paintings will be shown at the exhibition and most creative paintings will be awarded.

In Etropole Municipality on October 5, 2012 at 14 o'clock (2pm) in the Hall of the library will be presented  a diverse cultural program by children and young people from Etropole.  The  visitors will have the opportunity to see how polenta is prepared and to enjoy a variety of traditional dishes.


Stara Zagora district : In the town of  Radnevo a competition for the best painting, under the slogan "My Roma holidays" is being organized. The participants will be students of Roma and Bulgarian origin between 1-4  grade. With the help of their teachers, they will draw the best known festivals in the Roma community and a  special jury will determine the winners.

Pleven  district: In the town of Knezha, which is  known for the large number of Roma students going to Bulgarian universities in recent years, will be shown exhibition of univerisity diplomas of  Roma people. The diploma holders will share their experiences during the exhibition.

Shumen district: In the town of Novi Pazar on October 5 in the lobby of the municipality building  will be presented  traditional items, paintings made by children, culinary surprises, items from the Art workshop at the Center for Community Development, Novi Pazar, and of course songs dances from the Roma, Bulgarian and Turkish folklore.

Vratsa: In Byala Slatina on 5 October at 14.00 (2 pm) in the Central Exhibition Hall will be presented an exhibition of paintings, symbolizing Roma lifestyle. In addition,  the visitors will have the opportunity to see how traditional Roma dishes are prepared.
Burgas district: In the town of Kameno on October 5 at the Center for Community Development - Kameno will be shown exhibition of paintings made by children, traditional costumes and items made in the workshops at Art Center. There will be presented a various program of songs, scenes and dances.

Pazardzhik disctrict: In the town of Peshtera on October 6th at the Art Gallery will be shown the works of Roma students and activists Center for Community Development, town of  Peshtera. There will be presented awards to outstanding athletes, who are Peshtera natives as well as clothes, costumes, traditional costumes and items made by local craftsman
An international group of 40 Roma students launched romareact.org, a new online platform to mobilize Roma communities with a breath taking flashmob where girls and boys strip off stereotypes publicly.
Roma youth had enough of being perceived as beggars, thieves, fortune tellers even though there is an increasing number of Roma graduating from universities.
'Make the Change!' is the call to action message of the flash mob, that refers to an urgent need to help Roma raise from poverty and successfully engage with the non-Roma.
They occupied downtown Edirne in Turkey at 1pm last Saturday and set up the first Roma flash mob ever in the history of the country. 
The crowd got frozen too, it was something they have never seen before. Roma belly dancers, fortune tellers, beggers and an alcoholic invading the crowd suddenly get frozen. Music unfreezes them again and then they change into lawyers, nurses, engineers showcasing through their own personal stories the need to make a change.
Reactors —as ERGO Network in charge of the initiative calls the young agents of change— also want to demonstrate the struggle the educated young Roma have for being different in both the Roma as well as the non-Roma world.
RomaReact.org is celebrating the success of the young educated Roma by setting up events in their own communities and providing international visibility for them.
Two independent protests against the Roma were organised during this past weekend. While the first was halted by the police, the second remained orderly and ended without serious problems, the TASR newswire reported.
The march, which took place in the village of Krásnohorské Podhradie, Košice Region, was organised by the far-right non-parliamentary People's Party - Our Slovakia. Around 300 people gathered in the afternoon in the centre of the village and set off towards the Roma settlement, but a police cordon blocked their path, TASR wrote.
It was organised by the election leader of the party and notorious extreme nationalist Marian Kotleba, who described it as 'tidying up the Roma village' situated under the damaged castle of Krásna Hôrka. At the beginning, Kotleba not present at the march as he had been taken to the police station for interrogation, spokesperson for the Košice regional police Jana Mesárová told TASR.
Later on, Kotleba was allowed by police to enter his property, on which illegal Roma settlements stand, so that he could measure his property. He was accompanied by a few journalists. No immediate conflicts arose.
Kotleba announced his intention to demolish the illegal Roma settlement shortly after he was gifted part of the land. He declared that he wanted to remove the 'garbage' from his property. Even though People's Party – Our Slovakia called on its supporters on the website to bring axes, shovels and other tools with them, the march's participants did not have any in their possession.
People who attended the march chanted slogans such as 'police state' while demanding access to the village. The co-owner of the land, Štefan Szaniszló, was one of the leaders of the crowd. Many supporters wanted to wait for Kotleba's arrival before beginning the march.
Police supervision was in place, with hundreds of officers equipped water cannons and a helicopter monitoring the situation.
Meanwhile, a protest attended by about 3,000 people took place in Partizánske, Trenčín Region. It was organised by the civic association Say Stop to Anti-socials in Your Town, which called it a "march for the rights of decent people", TASR wrote.
The attendees also signed a petition which was prepared in cooperation of Partizánske mayor Jozef Božik, as well as mayors from Handlová and Žiar nad Hronom.
"Young people from Partizánske came to me and asked whether I was willing to help the idea of directing the attention - in a peaceful form - to solving the current problems," said Božik, as quoted by TASR. "These concern the anti-social behaviour of inadaptable citizens who live almost in every single town or village in Slovakia."
Božik added that he supported a decent way of urging the politicians via the media to start addressing the problem.
The march was monitored by the police.
Source: TASR
The city of Rome has dismantled a large settlement occupied by about 400 members of the Roma community in Tor de' Cenci, between Via Cristoforo Colombo and Via Pontina in the southern outskirts of the capital. The demolition and eviction, which took place on 28 September, was condemned by human rights groups and charitable organisations such as Rome's Comunità di S. Egidio. 

The city's mayor Gianni Alemanno said that the order to demolish the camp had been signed on 31 July for hygiene and sanitation reasons, in accordance with a decree from the regional administrative tribunal (TAR) of the Lazio region, and that the Rom people would be relocated to a specially-built camp at La Barbuta in Ciampino. Alemanno said that no abuses by authorities took place during the operation which was described by S. Egidio as "violent" and "shameful", and by Amnesty International as "unlawful" and "ethnic segregation". 

Italy's minister for economic cooperation and integration Andrea Riccardi – who is also the founder of S. Egidio and a former visitor to the Tor de' Cenci camp – expressed his "astonishment at the manner and the suddenness of the eviction… that took place in front of numerous children and minors". 

An upcoming report by the Council of Europe human rights commissioner is to request Italy to cease its practice of segregation and forced evictions of the Roma people immediately, while a recent report by Amnesty International cited the continued "persecution and human rights abuses" faced by the Roma in Italy. 

On 10 July Amnesty and S. Egidio held a concert called "Io non sgombero" (I'm not moving) to highlight the Tor de' Cenci eviction which had always been contested by the residents.