There was once a time when people believed the world to be flat, a time when people had no knowledge of those they shared the planet with, a time when it took months, not hours, to reach faraway lands. Yet, here we are in 2012, living in a globalised society where we are surrounded by cultures from across the world, where money is the only barrier from reaching the other side of the planet, and where overseas communication takes only seconds. Indeed, it would be safe to say that the United Kingdom is a multicultural state – there has undoubtedly been significant immigration, particularly since World War II. Yet, perhaps what is remarkable is how well these immigrant populations have, across generations, retained both cultural and ethnic identity, and the scope in which the United Kingdom has allowed these communities to do so. 




Indeed, it would be wrong to suggest that the preservation of minority identities has been achieved without challenge. There has been a historic and well documented presence of ethnic and racial tensions in post war Britain, for example - the 1958 Notting Hill Riots, the 1981 Brixton, Toxteth and Moss Side Riots and the 2001 Bradford Riots. Yet, despite the presence of far right extremists, such as the British National Party and English Defence League, the United Kingdom does offer protection to racial and ethnic minorities through legislation, such as, the Race Relations Act 1976 and the Equality Act 2010. While it cannot be denied that racial and ethnic discrimination are still present both institutionally and within society itself, the United Kingdom is a state not characterised by fascism but by, though I use this term loosely, 'equality'. 




Since the expansion of the EU, and the growth of so-called 'Islamic terrorism', there has been a degree of scare mongering tactics, promoted by the likes of the Daily Mail, used to bring multicultural policies into dispute. 

 Baa baa WHITE sheep, the nativity is banned, halal meat in your children's school dinner, immigrants stealing our jobs and sponging off our welfare state, social housing filled with foreigners, 

 terrorists have

  more human rights than us, they can't speak a word of English!!! Of course, while these myths seem to be brought up in conversation increasingly more, it appears the majority of society do not wish any harm upon our minority communities – take for example- 

 'My Tram Experience' ,  the Shilpa Shetty race row, or the public trial ofLiam Stacey. 




Yet, underneath this veil of racial and ethnic tolerance, there is something very unsettling – something which tears apart and refutes every promise of equality legislation, 

 something that disgraces the UK's claims of multiculturalism, and something that leaves only devastation, destruction, and deprivation in its path: Antiziganism. 




So what is Antiziganism? It is defined, on Wikipedia, as "…hostility, prejudice or racismdirected at the Romani people…", yet as the majority of British people fail to differentiate, let us include 'hostility, prejudice or racism' towards Irish Travellers as well. But surely, in multicultural Britain, there is no room for these attitudes? It appears not, indeed one may say what they wish about the Romani and Travelling people with a simple get out clause: "I'm not Racist, but…."




hawky01 

Program's like big fat gypsy wedding need to be banned , pikeys are the worst scum ever and deserve to be shot

 

CuthbertsonLucy 

Being a gypo is not a religion, it's just an excuse to steal things and be an embarrassment to human life

 

swimmer_ryry We can no longer use the word 'Gypsy' and must instead use "Caravan Utilising Nomadic Travellers" - the initials are easier to use. #LOL 

samuelmpollard 

Are learning difficulties compulsory if you want to be a pikey or do they just help?

 

ImTakingEddy 

Hate me or what ever but I really do have a huge hate for gypsies.

 

gemmaminty_ 

gypsy's really make me angry. please just fuck off and live in a proper house and pay taxes like you should be doing, dodging thieves.

 

JayneeIsobel 

Can't believe some fucking gypsy scum kicked my dog and had a go at my mam, all gypsys are fucking cretins.

 

laurakatewest 

'gypsy' is not a race, it's a lifestyle, if someone calls you a gypsy, it's not racist you complete idiot

 

James_Milne 

omg go away with your shitty pikey van you gypo cunts.

 

BreeVerrill 

I would slit my throat if I was a Romney Gypsy/Irish Traveler.

 

Laauraaaaaaaa 

Just get a fucking house and pay tax like the rest of us!! Ugh, gypsy's anger me so much!!

 

AlJahom 

How come these pikey cunts get access to the state's levers of victimhood without paying any fucking tax or abiding by the fucking law?

 

jackthecreation 

The gypsies just shit me the fuck out! FUCK YOUR IRON, PIKEY CUNTS

 

this quote was generated by twtQuote

If we replace the words 'gypsy', 'gypo, 'pikey' 

 etc. with racial slurs such as 'nigger', 'paki', 'wog', 'coon' and 'chink', can it really be argued that these attitudes are not racist? The ethnic minority status of Romani and Irish Travellers is neither recognised nor accepted by the British public. Instead, there are still widespread misconceptions that Gypsies and Travellers are merely a white underclass – 'chavs' in caravans – there by choice and thus somewhat deserving of discrimination. However, both Romani Gypsies and Irish Travellers have been granted legal protection under the Race Relations Act and thus have legally recognised ethnic minority status. 

 Still, prejudice and discrimination against the Romani and Irish Traveller communities has remained unchallenged, tolerated and unpunished.




The Irish traveller community, will indeed always contend with the fact that they are a distinct yet Irish minority, thus the British public view them merely as Irish immigrants, undeserving of 'special treatment'. However, unlike Irish Traveller's, perhaps what is most detrimental to the recognition of the Romani people's ethnic minority status, is the exact opposite- their lack of a motherland. It seems easier for society to accept one's minority status, if they can be pinpointed on the map. Andrzej is from Poland, he is Polish.

  Abena is from Ghana, she is Ghanaian. Kamran is from Pakistan, he is Pakistani. 

 Anna is from England, she is A GYPSY? It seems if Anna is white, if Anna is British, then Anna should subscribe to white British ideals and culture. Anna's motherland is England. 

 Anna is not an ethnic minority. 

 




If we look past skin colour, caravans and scrap metal, there is a fascinating history to be discovered. It is thought that the origins of the Romani people lie in India. Linguistic research has revealed links between the Romani language and Indo- Aryan languages such as Hindi and Marwari. What is more, similarities have been found between Romani and Indian blood types.  Indeed, when the Romani people arrived in Britain some 500 years ago, their appearance was thought to be Egyptian – hence the creation of the term Gypsy. What is clear is that Romani people are a separate ethnicity, and that their culture has been shaped by origins that lay outside of mainstream British and European societies. Thus, one cannot become Romani, one can only be born Romani. 




Perhaps what is perplexing is this preoccupation with choice versus ethnicity, for even if one could chose to be Romani, would this make them deserving of such extreme discrimination as the Nazi extermination (Porajmos). Indeed, the majority of society remains shocked by the Holocaust, the mass extermination of the Jewish people, yet Judaism is a religion – one may choose to convert and thus 'become' Jewish. Does this make a convert to Judaism deserving of discrimination? Do they deserve to die? After all, it was their choice. The simple truth is that hundreds of thousands of Romani people were murdered by Nazi Germany and still to this day they have not been giving the recognition that they deserve. Atrocities and discrimination against the Romani people are erased from the history books, and snubbed by the mainstream media. 




June 1st marks Gypsy, Roma and Traveller History Month. Unlike Black History Month, there will be no celebrations in our schools, no special broadcasts on BBC Radio, no series of documentaries on TV. Perhaps if we're lucky, More4 may play reruns of Big Fat Gypsy Weddings, and a far left blog may write about our heart-rending tale, read only by those with an already established interest in our community. If you wish to learn more about the Romani people, you can read about our dirty thieving ways in the Daily Mail, or watch a documentary about one great big extended Irish family that represent the thousands of Romani people in the UK, or why not ask your mum's friend's sister's husband's colleagues' daughter's cousin about that time 3 Romani's, out of a possible 300,000, stole her son's bike. 

 It seems, there is no place to celebrate Romani culture in the United Kingdom, only a thousand reasons why we should hide who we are. Gypsy, Roma and Traveller History month comes once a year but Gypsy, Roma and Traveller discrimination is an all year party. Some choice.
Click Here to Sign the Petition 

For hundreds of years Romani have suffered racism and prejudice because of the way we were stereotyped. A lot of hard work has went into changing people's view of us around the world. This is being destroyed along with the reputations of our people. The Television Show "My Big Fat Gypsy Wedding" promises a look into the "Gypsy" lifestyle. What they are really doing is showing a small group of Irish Travellers and then passing them off as "Gypsies". There are many lies that are being peddled to the viewers as facts so that the show's producers can make a buck. But they are doing it at OUR EXPENSE.

One of the many lies shows a supposed "Gypsy" tradition called Grabbing, where boys basically assault young girls in order to steal a kiss. You know we don't do this. Its insulting to Romanies and Irish Travellers alike that this show throws us into a pile with no respect to who we really are. We have been severely damaged by the way this show spins "Gypsies" into a Jerry Springer Show. Our people are being depicted as trailer trash, alcoholics and thieves which is causing even more hatred and more suspicion in the Romani and Traveller communities.Do not participate in the negative portrayal of the Roma by participating in this documentary. These people are sharks who will use and abuse you and your family. They are soliciting our kids on Facebook already. They've contacted my daughter, my sisters and other members of my family. Chances are they are trying to contact your chavies too.

Do not trust them!A show like this can make MILLIONS of dollars per season and will expose the way that you live and how you do business. They would pay you what amounts to peanuts. We have read dozens of reports from other Travellers and Romani in the United Kingdom about how our children are now the subject of even more abuse and are being bullied because of the lies produced in this show.

A potential class action lawsuit may be filed against the My Big Fat Gypsy Wedding to show these greedy outfits that we're not going to take this laying down. All Roma, Romanichals and Travellers need to join the fight by filling out this petition. Just click on the clipboard to be taken immediately to the petition. We appreciate your support!

[Source]
It's just in the beginning stages, so there's not too much actually there at the moment.

http://www.walking-kopachi.com

You can register for the site, and after activating via email, you can post in the forums. I hope to make it possible to have multiple authors on the site for posts (right now I've imported the RSS of the Aj, Rromale feed here—until it get's all the .php issues straightened out).

A HUGE thanks to Aliska (me kamav tu!) and Sami (murri roj).

Over the coming weeks I'll continue to work on the site—input and suggestions are always welcome!

If you'd like to be added as a contributor to the site, please let me know and I'll go ahead and sign you up!
The following will be a directory of Walking People on Tumblr and our allies. Hopefully, it'll lead to networking in the fight against antiziganism and the recognition of settled privilege. Please feel free to add yourself and reblog! I'll be updating the list periodically.

WALKING PEOPLE:
sami — south florida/genderqueer/ursari & kalderaš 
Qristina — European-now-Midwestern/Kalderaš & Lotfitka
rusty — sleepyhead welsh kale
caryn — anglo-romany, future political activist 


ALLIES:
sebastiane — toronto activist/follower of the "don't be a dick" rule
voiceofarat — northeastern US musician/librarian
alisa — south florida, Ukrainian/Russian/Jewish


I'll share this here as well :)
More than 20 families from Cardiff's Gypsy and Traveller community will get the opportunity to share their history, culture and traditions thanks to a grant from the Heritage Lottery Fund.
Despite having been part of British society for over 500 years, members of the Gypsy, Roma and Traveller Community are often thought of negatively.  This new project which involves residents from the Rover Way and Shirenewton sites, will share their experiences of their lives in Cardiff and their nomadic way of life.
The project, which will be managed by the Romany Cultural & Arts Company in Cardiff, will recruit volunteers and train them in recording oral histories, create a new exhibition which will tour venues throughout Cardiff and produce learning and interpretation material which will help people to have a better understanding of the heritage of the cities' Gypsy, Roma and Traveller community.
Isaac Blake, Director of the Romany Cultural and Arts Company said, "Many people have documented the heritage and culture of the Gypsy, Roma and Traveller community, but much of that has been documented by people outside of our community.  This project will create an opportunity for Cardiff's Gypsy and Traveller community to lead the project itself and be sure that it becomes a true representation of its culture and values."
After the mechanisation of traditional rural work, the lives of people from the Gypsy, Roma and Traveller community changed dramatically and many people moved to towns and cities.
In addition to the financial support from HLF, the project will also be given practical help and support from St Fagans: National History Museum; The Cardiff Story; Cardiff Council's Traveller Education Service and The Black Voluntary Sector Network Wales.
Beth Thomas, Keeper of Social and Cultural History at St Fagans: National History Musuem Beth Thomas said "The Museum is glad to support this project and provide an archival home for the material collected. The role of Welsh Gypsies in preserving aspects of Wales' traditional music and dance has been well documented by others. This is a very timely opportunity for the travelling community to tell their own stories, present a fuller picture of their culture and way of life, and preserve that knowledge for future generations".
Supporting the HLF grant award, Equalities Minister Jane Hutt, who recently launched 'Travelling to a better future' a Gypsy and Traveller Framework for Action said:
"Wales as a nation has always prided itself as a diverse society with a rich mix of cultures and traditions. Gypsy and Traveller culture and heritage forms a part of this diversity.  Thanks to this project more people will be able to learn about that heritage directly from the Gypsy and Traveller community that plays such an important part of everyday life in Cardiff."
Jennifer Stewart, Head of the HLF in Wales added, "The lives of Gypsy, Roma and Traveller communities have changed significantly in the past 50 years.  This project not only offers the opportunity to record this history before it is lost, it offers exciting opportunities for people to get to know more about the history of the community in Cardiff".
(source: Romani Cultural & Arts Company)
@redlightvoices

Flavia Dzodan

.@rowanwasp where exactly did I speak like Roma women have no agency?! specifically when I linked to sites and initiatives of Roma women?

Gadje, please. You called us "illiterate", said that we live in…

Funny because when my grandmother (who btw, wasn't illiterate even though she NEVER once stepped in a school and in fact taught some of her friends back in Spain to read and write) was faced with a Domestic Violence situation, when my grandfather's drinking had gone out of control, she took her children and stayed with a friend, after informing my grandfather that she loved him but she would not be returning until he sobered up and cleaned his act. Yes, she was loyal to him and never once considered divorce or permanent separation…as is or was customary of Spanish Roma but she didn't put up with it either. Within months my grandfather cut down his drinking and made changes so his family could be together again. My grandparents were married for 75 years until two years ago, when my grandfather passed away. All of their children got a formal education, they all have degrees today. My grandma was not a victim, she was a fighter and she was not oppressed or afraid to get help…she acted the way she thought was best to save her family and her husband, the love of her life (married since they were 16). She protected her children but did not abandon her husband…after losing two of her children to genetic illnesses and raising three more in absolute poverty (but always rich in many other things and never complaining) while sticking by her man and recently losing him to an accident…I'd say she's a hero, an admirable woman who's not in a position to be pitied and one who doesn't need the condescension and so-called help of people who don't understand. She was not forced to stay with my grandfather, she chose to do so and at his funeral she said she was glad she stuck by him and he gave her the best life she could have dreamed of…her best friend, she called him. So this whole crap about Roma women not being able to help themselves when  faced with abuse…is a load of bs to me. I have yet to meet stronger and more ballsy women than Gitanas españolas…and I speak only of the Spanish ones because that's all I know but I'm sure this applies to all Roma women.

Ahh! Your grandmother sounds so amazing.

I find it very telling that gadje are so invested and determined to believe in this story of Rroma women as helpless victims. I shows not only how much contempt they hold for us, but how limited their own capacities are for handling crises. They cannot even IMAGINE how they would survive domestic violence without all their privileges, and they can't envision the different ways other communities might deal with such things, so they think it must be impossible.

It's a misconception that could be cleared up by, oh, I don't know, simply listening to and respecting the voices of Rroma women - and of Pavee and Irish Traveller women! - but if most gadje were up for that task, I wouldn't have started this blog in the first place.
Your grandmother sounds wonderful!
I'll also make a little mention, as the only Romanies I know are on-line, they all seem strong and brave to me.
But I'll also just mention that in a book I have about Romani laws and customs, it mentions in parts the women and customs and such revolving around them, and not once when reading it did I feel they were helpless and victimised. On the other hand I felt they had a lot of strength and power.
Even in videos I watch, the women always seem to carry themselves in a way that shows how strong they are.
Anyway, not to intrude on anything! Just wanted to share another post here. Love your blog a lot!
Please, readers of Aj-Rromale, go check out this blog, especially if you are an ally, such as myself, it is very important to have this side of the argument.
Cheers,
Aliska
Garth Cartwright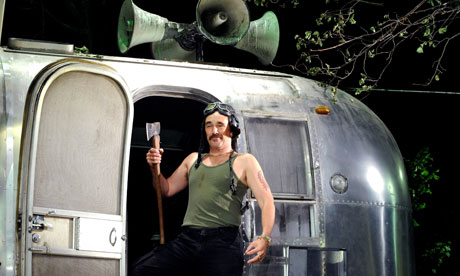 Mark Rylance as Johnny 'Rooster' Byron in the play Jerusalem. Photograph: Tristram Kenton
Wednesday 19 October will be remembered as a bleak day by those who claim allegiance with the UK's Traveller and Romany Gypsy communities. If the Dale Farm eviction marked a brutal beginning to the day, the screening on BBC2 of Panorama's Britain's Child Beggars marked a chilly close. Dale Farm's residents were Irish Travellers. The child beggars and their Fagins were Romanian Roma. Two very separate communities united only by a historic memory of roaming and a tendency to be described (and to describe themselves) as "Gypsies" – that catch-all term derived from "Egyptians", as Constantinople's citizens labelled the dark-skinned people who arrived at their city in 1068. These pioneers were, it is thought, fleeing the Islamic armies then invading north-west India. Admittedly, the Travellers and the Roma also share a common plight: whether in Ireland, Romania or their adopted UK home, they are perceived as outsiders, their communities ostracised and marginalised.
As the author of a book on travelling with Gypsy musicians, I'm often asked what I make of the showdown at Dale Farm or the virulent reactions east Europe's Roma stir up from the tabloids and rightwing politicians. There are no easy answers, but one thing is for certain: at the dawn of the 21st century, Gypsy culture is denigrated and celebrated in equal measure. In the West End, Johnny "Rooster" Byron, the protagonist of Jez Butterworth's much-praised play Jerusalem, is Romany. Memoirs such as Mikey Walsh's Gypsy Boy, Rosie McKinley's Gypsy Girl and Sam Skye Lee's Gypsy Bride have proved UK bestsellers. Romanian Gypsy bands Taraf de Haidouks and Fanfare Ciocarlia have lit up the world's greatest theatres and attracted voluble praise from all manner of critics.
Gypsy culture has moved in and out of fashion over the centuries: DH Lawrence described the Gypsies as noble savages while Jimi Hendrix wrote songs and named a band after them – and in my post today was a CD called Brass Noir, which finds Berlin-based DJs championing Fanfare Ciocarlia and other Balkan brass bands as club tunes. Indeed, Serbia's annual Guca brass festival – the Gypsy Glastonbury – is now on every adventurous backpacker's list. American rock bands Gogol Bordello and A Hawk and A Hacksaw both borrow elements of eastern Gypsy music to spice up their sound, with Gogol's vocalist seemingly sharing the same stylist as Mark Rylance in Jerusalem. Scruffy chic seemingly being the trademark Romany fashion.
History always repeats itself and this is nothing new: from Caravaggio's palm-reading, pick-pocketing hustler to Bizet's Carmen, the arts have loved the Roma. At least as inspiration. While the Nazis were intent on committing genocide upon Europe's Gypsies, their top officers flocked to see Django Reinhardt play in Parisian clubs. And Roma communities across eastern Europe are today more impoverished and threatened by rightwing groups than ever since the end of the second world war.
Slovakia, not a nation noted for its tolerance of the Roma populace, has entered Cigan (Gypsy) – a film that transports Hamlet's son-and-stepfather struggle to an impoverished rural Gypsy village – into the 2012 Academy Awards for best foreign film. The Gypsy cinema of Emir Kusturica (Serbia) and Tony Gatlif (France) has proved profitable on arthouse screens and Cigan (which screened at the London film festival last week) may follow suit. But those few who get ahead in music or film don't account for the multitude left behind. Some of whom, as the Panorama film suggests, end up being trafficked to the UK to beg on our streets. Many of Dale Farm's former residents might be forced to join them there this winter.
In spite of all this, Dale Farm's struggle has attracted almost no support from artistic voices beyond that of Vanessa Redgrave. The 2009 Belfast pogroms against Romanian Roma, likewise, were met with silence from the likes of Bono and Bob Geldof. Romanticised but despised, the life of the Gypsy as celebrated by so many songs and paintings, novels and films, looks less enticing on this freezing October morning.
(source: The Guardian)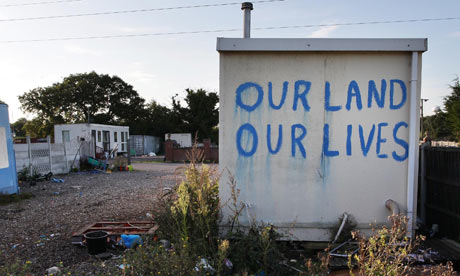 A slogan is painted on a hut at Dale Farm travellers camp Photograph: Peter Macdiarmid/Getty Images
Violent clashes as Dale Farm eviction begins
Caravan on fire as at least 50 officers enter site
Reports of police baton and taser use as protesters resist
(source: The Guardian)



The eviction of some 400 people from the UK's largest illegal travellers' site, Dale Farm in Essex, has once again brought to the forefront Britain's traveller community.

Not to be confused with Romany Gypsies, who are the largest traveller group in the world with some 12 million members according to the Gypsy Council, the families who live at the site are Irish Travellers.

"A lot of Romany Gypsies are very angry at Irish Travellers in terms of the way our two identities are confused," says Jake Bowers, a Romany Gypsy journalist who writes for the Travellers' Times.

"We're two separate ethnic groups. Whilst there is some conflict because people inhabit the same social and physical space, there is some kind of harmony; some inter-marry and live alongside each other."

Both Irish Travellers and Romany Gypsies are recognised as distinct ethnic minority groups in English law because they are communities which share a history stretching back hundreds of years.

In a guide to Gypsies and travellers, Mr Bowers writes that from the 16th Century to the present day, "no ethnic groups in Britain have aroused as much curiosity, romance, hatred and fear as Gypsies and travellers".

The law and gypsies

Romany Gypsies have been in Britain since at least 1515 after migrating from continental Europe.
The 1554 "Egyptians Act" banned gypsies from entering England and imposed the death penalty on those that remained in the country for more than a month.
From 1597, the Vagrancy Act reduced the death penalty to expelling anyone who led that "roguish kind of life".
Britain's attitude towards gypsies relaxed over the years. In 1968 the Caravan Sites Act ordered local authorities to provide sites for all gypsies living or moving to their areas.
This was the first time that the state had recognised responsibility to provide secure, legal stopping places for gypsies.
This changed in the 1990s when the Criminal Justice and Public Order Act removed the legal obligation to provide these sites and gave police eviction powers.
Currently it is up to gypsies to find their own sites however councils have to provide options for them.

Irish Travellers mainly came to England after the potato famine in the 1850s and then after World War II, when men came over to build motorways and work as labourers.

Many travellers, including those from Dale Farm, describe Rathkeale in County Limerick as their spiritual home, says BBC Look East correspondent Sally Chidzoy, who visited the Irish town earlier this month.

She said many Irish Travellers moved between the town and other traveller sites in eastern England.

Many Irish Travellers in the UK have been born in Britain and some now speak with British regional accents, says Grace O'Malley, from the Irish Travellers Movement in Britain charity.

Nomadic way

The term traveller refers to anyone who has a nomadic way of life. It can not only refer to Irish Travellers or Romany Gypsies, but also those who live on the road for economic reasons such as New Travellers or Showmen.

Having said that, about half of all gypsies and travellers nowadays live in houses, the other half live in caravans on private caravan sites, public caravan sites and on unauthorized encampments, says Mr Bowers.

Many gypsy sites have been built near rubbish dumps, sewer works or industrial sites.

"There isn't one gypsy and traveller culture, just as there isn't one single gypsy and traveller community," says Mr Bowers.

However, the way of life of living on the road means that there are "certain cultural things in common", he added.

Irish Travellers share some of the same cultural values as Romany Gypsies, such as a preference for self-employment, but there are also big differences, for example most Irish Travellers are Catholic whereas Romany Gypsies are Church of England, says Joseph G Jones from the Gypsy Council.

Irish Travellers speak a language called Gammon or Cant, a language which mixes Gaelic words with English.

"Broadly speaking it's basically the same community," says Ms O'Malley.

"There are different groups, but there are no huge defining differences other than accent and religion. They live together on council sites."

Big costs

Gypsy culture is built on strict codes of cleanliness, says Mr Bowers. Concepts such as mokadi and mahrime place strict guidelines on what objects can be washed in what bowls.

A gypsy caravan at an encampment near Notting Hill, London, circa 1877

Gypsies view gorgias (non-gypsies) as unclean because of the way they live. For example, gypsies and travellers rarely let animals inside their homes because they believe them to be carriers of disease, according to Mr Bowers.

They often value visible signs of wealth.

"Travellers having big cars can be summarised by the fact that they don't have mortgages, so they don't have the same cash outlay month by month (as the settled community)," says O'Malley.

"They don't have the same costs, and big costs (such as cars) are normally hire purchases."

Ms O'Malley added that communities also loan money out amongst themselves so people who appear poor could spend a lot of money on a wedding because the community has given it to them.

'Travel aimlessly'

The term traveller can also be misleading.

"It's the biggest misconception - you don't have to be a traveller to be a traveller," says Ms O'Malley.

"People are settling - the mother will settle in one place, while the father will travel around Europe working."

And Mr Jones agrees, saying: "they don't travel aimlessly; they go from place to place for a reason."

"Gypsies want a settled base from which to travel and where they can get access to education and health care for their families," adds Mr Bowers.

Legal and illegal sites

There are 18,383 traveller caravans in the UK on both legal and illegal sites
About 83% of travellers and gypsy caravans are on legal sites
Local authorities in London and in the North East of England have the fewest caravans in their areas
Across England a total of 3,109 gypsy and traveller caravans were on unauthorised sites, a reduction of 510 from 2010
Illegal sites can be common land or beside the road

Historically, gypsies and travellers do not attend schools as they see them as places where children will be bullied for their way of life.

"Gypsy and traveller pupils have the worst school attendance record of any minority ethnic group," says Ms O'Malley.

Girls are often expected to help at home caring for their younger siblings, whereas boys are often expected to be working with their fathers receiving, in effect, an apprenticeship in how to earn a living, says Mr Bowers.

Travellers or gypsies can have difficulty in Britain doing the jobs they used to do because they have either been replaced by a cheaper alternative, such as eastern Europeans undertaking agricultural work, or machines which have replaced what they used to do, according to Ms O'Malley.

"Much of their lifestyle has been made illegal as it now no longer possible to knock on front doors and ask people if they need any construction work, resurfacing or trees cut down," she adds.

As many do not have any education (although in recent years this is changing and more travellers and gypsies are going to school according to the Irish Travellers Movement in Britain) they cannot apply for licences to be able to do these jobs as they only have basic reading skills so instead they go to France, Germany or the Netherlands to earn a living.

Although different in many aspects, the fortunes of both groups are inheritantly intertwined in the public's mind.

As Mr Bowers, says: "The Romany Gypsy community will be reaping the whirlwind of whatever happens at Dale Farm."

[SOURCE: BBC.COM]
Gypsy or gipsy. Pikey or tinker. Traveller or vagabond. We're all the same. It doesn't matter how many times I try and specify, Romani, Kalderas, it always comes back to "so you're a gypsy!"

My Big Fat Gypsy Wedding has tarred us all with the same brush. It has claimed, erroneously that our men like to fight, that our boys go 'grabbing' to get the girls, that we're all rich - from thievery, government benefits, and slight of hand. It claims that our girls are airheads who marry young to be able to "do things" and solely for the pageantry and the dress.

This is not my life; it is not the life of my kumpanija. It is not the life of my Romanichal family and friends nor my Pavee friends. The Dale Farm fight has taken on a disturbing undertone. The world is watching and taking note of the accusations; taking note of the "lying gipsies" who allegedly own housing estates, make residual income, and have multiple places to go. I have been accused of not being a "real gipsy" because I no longer live in the UK. I've been asked how I'm not a traveller; how I am a traveller; how I live; why I'm too white.

Why is my ethnicity your business? Dale Farm and My Big Fat Gypsy Wedding have made it everyones business, except they've misrepresented all of us. I have written many posts in this blog that have angered both non-Romani and Romani alike. The situation for many of us is not simple. I grew up being labelled traveller and gypsy interchangeably. Sometimes it was pikey or just scum. My family were Romani and Romanichal. My friends also included Pavee. While our grandparents were very strict about intermixing, we didn't care. We just refused to deal with the 'travellers' - who were of unspecified origin, with weird customs, mini skirts, and gangs of noisy boys.

I feel no matter how I explain it is never enough for anyone. I am tired of being simply "gipsy"; a slur; a word filled with hatred. I am tired of being questioned by other Romani, solid in their familija or kumpanija who state a Romni with neither is no Romni at all.

Just …. don't believe eveything you read. Don't believe the stereotypes and the hype. We're more than you think. So much more.
A judge, earlier today, ruled that the travellers on Dale Farm would be allowed to stay.

The London High Court judge ruled that the issue must go to another hearing, which caused celebrations amongst the Irish travellers.
A number of travellers have moved from Dale Farm in Essex ahead of the eviction due to begin on Monday.

Basildon Council said about 12 families had already left the unauthorised site at Crays Hill.

A spokesman said preparations continued ahead of the clearance which is due to begin at 0800 BST on Monday.

Mass was held at Dale Farm and some people are said to have broken down in tears saying they were worried about the future.

"The operation will start with our contractors entering the site, asking the residents to leave, and offering assistance," the council spokesman said.

"The operation will be carried out professionally, and in a safe and lawful way."

The council expects more families to leave overnight before the clearance begins.

The planned eviction follows a decade-long row over unauthorised plots.

Prayers said

Up to 400 people are thought to live on the 51 unauthorised plots making it the UK's largest unauthorised travellers' site.

Father Dan Mason from Our Lady of Good Counsel church, Wickford, held Mass on the site on Saturday.

He said: "What was very distressing was seeing people upset, fearful, a few broke down in tears as they told me of their fears for next week.

"If people have another place to go we are encouraging them to go."

He added: "Some tell me they don't have anywhere to go and we are supporting them at this very difficult time."

Essex Police warned residents to expect a "significant increase" in police vehicles during the eviction, which is expected to last up to six weeks.

The police have set up a temporary base at Barleylands in Billericay.

Some travellers and supporters have said they will resist peacefully.

On Friday a last-ditch bid to halt the site clearance was rejected by an appeal judge.

He refused to allow a challenge to an earlier High Court ruling which denied the travellers a temporary injunction to stop their eviction.

[Source: BBC News]
Bailiffs are poised to evict up to 400 people from the six-acre stretch of green belt land in Basildon, Essex where they have lived without planning permission for more than a decade.

But fears have been raised that dozens of travellers could simply set up camp on nearby pitches without permission – effectively creating a second illegal ghetto.

Around 13 families have left Dale Farm already, and several are swapping their static chalets for touring caravans and plan to take to the road.

The remainder of the camp's residents have vowed to stand their ground when the bailiffs arrive on Monday, claiming that they have nowhere else to go.

But several of the families are known to own plots of land elsewhere in Essex, raising the prospect that they may move their homes there without permission.

Last night, Tony Ball, Conservative chairman of Basildon Council, admitted that there was a "risk" that travellers will set up illegal camps elsewhere when they are expelled.

"We know the travellers do own other pieces of land which do not have planning permission, but again they will be breaking the law," he said.

Cllr Ball added that the travellers have been handed lists of unoccupied legal pitches "up and down the country" as well as "many" private camp sites that would be willing to accommodate them for a fee.

There are around 5,000 legal pitches in England, but a survey of 30 local authorities found yesterday that almost all are running at full capacity.

The Dale Farm residents own the plot of green belt land on which they live, but it is illegal for them to set up caravans and chalets there without planning permission.

About half of the site has permission, and it emerged earlier this month that its 40 legal plots are only occupied for one month each year, casting doubt on claims that the travellers facing eviction face becoming homeless.

At least 12 families fighting to stay at Dale Farm reportedly own six double-size pitches at Smithy Fen, in Cottenham, Cambridgeshire, which could accommodate them.

Candy Sheridan, a traveller activist and Lib Dem councillor, has told council chiefs that some of the families are prepared to move to legal pitches they have recently bought in the Cambridge area.

But the majority of the Dale Farm residents were last night promising to "fight to the bitter end" to defend their camp.

Kathleen McCarthy, said: "They are treating us like animals, we never wanted to break this law, we had meetings, we begged Tony Ball, we wanted a peaceful solution, we wanted to find a piece of land but they couldn't find anything.

"We identified land and still they said 'no'. No matter how we try not to break the law we will never be able to win this".

I can't believe the way the local council and the British government are handling this… wait, yes I can. It's always the same. They decide to evict the Travellers (or Romani/Pavee/Romanichal) and then scrabble for legal reasons when people make a fuss. The information has changed almost daily—first it was that the whole site was illegal; then only half; then it was built on greenbelt; then they owned a couple houses in Rathkeale; then a whole housing estate; now it's that they only live there one month out of the year (REALLY?… and that would just happen to be this month would it?) The council claim that legal pitches are available immediately, but other councils deny this saying they don't "want" the travellers either…

The use of the word "illegal ghetto" just strikes fear into my heart. The term 'ghetto' was first applied to settlements where Jewish (and Roma/homosexual/black) people were "compelled" (ie: forced) to live. It automatically "others" the people there and forces a stereotype on them—that they are a danger to the majority population. The term 'ghetto' immediately conjures up one of two visions—the ghettos of WWII where targeted groups were held by Nazi forces; or the poverty-stricken inner city ghettos of the US fraught with violent crime and drug problems (due to unequal treatment by the government). The ghettoization of Travellers (and associated groups) in the UK therefore implies one of two things: They are an unwanted and unnecessary population; or they are a dangerous and 'different' population.

Either way it's a dangerous label for them.

It makes me sick to my stomach; sick to my heart; it reminds me that my lack of a clan gives me privilege. It means I don't have to face eviction threats and notices and taunts and jeers of settled folks.

I feel broken.
BRITAIN is breaking international law by evicting hundreds of people from an illegal Travellers' camp where they have lived for years, a former adviser to the United Nations says.
Yves Cabannes of the UN Advisory Group on Forced Evictions said on Wednesday moving the Irish Travellers from their Dale Farm site infringes their rights to adequate housing and to not be forcibly evicted, and amounts to racial discrimination.
Irish Travellers have similar lifestyles to, but are ethnically distinct from Gypsies, also known as Roma. They have a nomadic heritage but now often settle in one place for years.
Local authorities have won an eviction order against 86 families who have been living illegally since 2001 on the site, a former scrap yard 50 kilometres east of London. The residents own the land, but do not have planning permission to put houses or mobile homes on it.
"The UK is infringing international laws," Mr Cabannes said on a visit to the site. "The people who are abusing the law are the council, not the travellers."
Mr Cabannes' group has reported to the UN on forced evictions but is not part of the international organisation, and the UN said it was not involved in the Dale Farm visit.
The UN itself has also criticised the expulsions. Its Committee on the Elimination of Racial Discrimination has urged authorities "to find a peaceful and appropriate solution" to the dispute.
After years of legal wrangling, last month Britain High Court rejected a bid to halt the evictions, which are due to begin on Tuesday.
Tony Ball, leader of local authority Basildon Council, said officials had tried to find "a peaceful and humanitarian solution" but negotiation attempts failed.
The council says it will try to find homes for the evicted Travellers. While many have vowed to fight, alongside activists who have travelled from around Britain, several mobile homes have left the site as the eviction deadline looms.
"The UN refers to the rights of the families involved," Mr Ball said. "Basildon Council respects those along with the rights of the vast majority of its residents who want this illegal camp moved after 10 years of stalling tactics by the Travellers."
The British government's Department for Communities and Local Government backed the evictions, saying the courts "have found that the developments at Dale Farm are in breach of planning law and Basildon District Council is within its rights to evict travellers from the site".
[Source: News.com.au]