Kalderash
Ruska Romani (Kalderash of Russia)
Then:

Now:

Polska Romani (Kalderash of Poland)
Then:

Now:

Căldărari (Kalderash of Romania)
Then:

Now:


Kalderash of Ukraine
Then:

Now:


Kale Romani

Manouche (Kale Romani of France)
Then:

Now:


Iberian Kale (Kale Romani of Spain)
Then:

Now:


Romanichal (Kale of the British Isles & America)
Then:

(The group that popularized the "Gypsy" Vanner & the Romani vardo)
Now:

(She is very light in complexion. The Romanichal vary in skin complexion & hair color, just like every other Romani sub-group)

Kàlo (Romani Kale of Finland & Sweden)
Then:

Now:


Sinti
(Romani of Austria & Germany)
Then:

Now:


Xoraxane (Romani of Turkey)
Then:

Now:


Lovari (Romani of Hungary & Slavic countries)
Then:

Now:


Machvaya (Romani of the Balkans & Southern Hungary)
Then:

Now:


Gurbeti (Romani of the former Yugoslavia)
Then:

Now:


Romani of Macedonia
Then:

Now:


Rroma (Romani sub-group dispersed from Northern Italy to the Balkans)
Then:

Now:



The Romani are separated into various nations, sub-groups, tribes & family groups. The division & self-identification among Romani is rather complex. In short, we are divided into four categories: Vlax, Sinti, Kale & Rroma.

The Kalderash are the largest Vlax nation. The Ruska & Polska Romani, as well as some Eastern European Romani groups who self-identify by their country are part of the Kalderash Nation.

The Lovari are another sub-group of the Vlax Nation. The Machvaya of Serbia & other small Balkan groups are essentially branches of the Lovari. Over time, separation occurred between Romani of the Balkans & their Lovari parent group. Some Romani still self identify as Lovari-Machvaya, or Balkan Lovari, others self identify only as Machvaya or their respective Balkan group.

The Gurbeti are also considered part of the Vlax nation, though they do not always self identify as such. 

The Xoraxane, the Romani of Turkey, are generally lumped under the Vlax nation, though they no longer self identify as Vlax. The Xoraxane are the Romani who settled in Turkey, while splinter groups continued to migrate north into the Balkans & other parts of Europe. Their settlements are some of the oldest Romani communities in the world, though many young Xoraxane Romani no longer speak the Romani language.

The Rroma are dipsersed throughout Central & Southeastern Europe. They are generally identified by the region in which they live; Carpathian, Burgenland, Balkan, or Greek. They contain sub-groups such as the Ungrika of Hungary, the Lucani & Calabresi of Italy, and the Aškalija & Yerlii of the Balkans.

The Sinti are a Romani group who settled in the region of Austria, Germany & the former Czechoslovakia. There is sometimes contention as to whether the Sinti are a Romani sub-group as they often self-identify ethnically as Sinti, not Romani. However, their language, though influenced by German, is considered a dialect of the Romanes language, and is most closely related to the Kale dialect family.

The Kale are Romani who settled in regions of Western Europe. They consist of the Manouche of France, the Romanichal of the British Isles, the Kalo of the Nordic countries & the Kale of Spain, sometimes called the Gitanos.

As stated previously, self identification varies greatly amongst Romani. This explanation is a general overview & not in any way definitive of how certain Romani sub-groups may identify themselves. For example, my family self-identifies as Lovari-Machvaya, while many Machvaya no longer identify with this parent group. Also, Romanichal often simply identify as Romanichal, without mention of their Kale parent nation. Much of our self-identification depends on where a particular Romani sub-group has settled & from where they migrated and when. There are few Machvaya in Serbia who acknowledge their filial relationship with the Lovari, but there are Machvaya in America who continue to do so because they left this region before the groups become more geographically & linguistically separated.

There are also many Romani groups that have come about through different sub-groups continually inter-marrying with one another. We are not, at least not at the moment, in any way capable of tracing & identifying every single sub-ethnic population of the Romani. What is shown & discussed is of the most well known & documented Romani groups. There are over 80 identified dialects of our language, at the moment. There are likely far more than 80 self-identified Romani sub-ethnic groups.

The pictures above show general dress of these various nations & groups. Notably, the Sinti have managed to assimilate more in to mainstream society, and are perhaps the most assimilated of the various Romani groups. However, Germany & Austria had long forced assimilation through radical laws that went so far as to take the children of Sinti families & place them in families of non-Romani to be "civilized".

The situation of each Romani nation & our various groups differs from country to country, even from family to family. Though, one can see the cohesive nature of this traditional dress. Given that we began our diaspora over one thousand years ago, relatively speaking, little has changed of our culture & language since we first entered Europe. 

The young Romanichal girl that is depicted, though her population as been separated from the Vlax for over five hundred years, and many miles, still traditionally braids her hair the same way as the Vlax Romani who remained in Eastern Europe. It is rather remarkable that we have managed to maintain our culture & language in this ever-changing world.
There was once a time when people believed the world to be flat, a time when people had no knowledge of those they shared the planet with, a time when it took months, not hours, to reach faraway lands. Yet, here we are in 2012, living in a globalised society where we are surrounded by cultures from across the world, where money is the only barrier from reaching the other side of the planet, and where overseas communication takes only seconds. Indeed, it would be safe to say that the United Kingdom is a multicultural state – there has undoubtedly been significant immigration, particularly since World War II. Yet, perhaps what is remarkable is how well these immigrant populations have, across generations, retained both cultural and ethnic identity, and the scope in which the United Kingdom has allowed these communities to do so. 




Indeed, it would be wrong to suggest that the preservation of minority identities has been achieved without challenge. There has been a historic and well documented presence of ethnic and racial tensions in post war Britain, for example - the 1958 Notting Hill Riots, the 1981 Brixton, Toxteth and Moss Side Riots and the 2001 Bradford Riots. Yet, despite the presence of far right extremists, such as the British National Party and English Defence League, the United Kingdom does offer protection to racial and ethnic minorities through legislation, such as, the Race Relations Act 1976 and the Equality Act 2010. While it cannot be denied that racial and ethnic discrimination are still present both institutionally and within society itself, the United Kingdom is a state not characterised by fascism but by, though I use this term loosely, 'equality'. 




Since the expansion of the EU, and the growth of so-called 'Islamic terrorism', there has been a degree of scare mongering tactics, promoted by the likes of the Daily Mail, used to bring multicultural policies into dispute. 

 Baa baa WHITE sheep, the nativity is banned, halal meat in your children's school dinner, immigrants stealing our jobs and sponging off our welfare state, social housing filled with foreigners, 

 terrorists have

  more human rights than us, they can't speak a word of English!!! Of course, while these myths seem to be brought up in conversation increasingly more, it appears the majority of society do not wish any harm upon our minority communities – take for example- 

 'My Tram Experience' ,  the Shilpa Shetty race row, or the public trial ofLiam Stacey. 




Yet, underneath this veil of racial and ethnic tolerance, there is something very unsettling – something which tears apart and refutes every promise of equality legislation, 

 something that disgraces the UK's claims of multiculturalism, and something that leaves only devastation, destruction, and deprivation in its path: Antiziganism. 




So what is Antiziganism? It is defined, on Wikipedia, as "…hostility, prejudice or racismdirected at the Romani people…", yet as the majority of British people fail to differentiate, let us include 'hostility, prejudice or racism' towards Irish Travellers as well. But surely, in multicultural Britain, there is no room for these attitudes? It appears not, indeed one may say what they wish about the Romani and Travelling people with a simple get out clause: "I'm not Racist, but…."




hawky01 

Program's like big fat gypsy wedding need to be banned , pikeys are the worst scum ever and deserve to be shot

 

CuthbertsonLucy 

Being a gypo is not a religion, it's just an excuse to steal things and be an embarrassment to human life

 

swimmer_ryry We can no longer use the word 'Gypsy' and must instead use "Caravan Utilising Nomadic Travellers" - the initials are easier to use. #LOL 

samuelmpollard 

Are learning difficulties compulsory if you want to be a pikey or do they just help?

 

ImTakingEddy 

Hate me or what ever but I really do have a huge hate for gypsies.

 

gemmaminty_ 

gypsy's really make me angry. please just fuck off and live in a proper house and pay taxes like you should be doing, dodging thieves.

 

JayneeIsobel 

Can't believe some fucking gypsy scum kicked my dog and had a go at my mam, all gypsys are fucking cretins.

 

laurakatewest 

'gypsy' is not a race, it's a lifestyle, if someone calls you a gypsy, it's not racist you complete idiot

 

James_Milne 

omg go away with your shitty pikey van you gypo cunts.

 

BreeVerrill 

I would slit my throat if I was a Romney Gypsy/Irish Traveler.

 

Laauraaaaaaaa 

Just get a fucking house and pay tax like the rest of us!! Ugh, gypsy's anger me so much!!

 

AlJahom 

How come these pikey cunts get access to the state's levers of victimhood without paying any fucking tax or abiding by the fucking law?

 

jackthecreation 

The gypsies just shit me the fuck out! FUCK YOUR IRON, PIKEY CUNTS

 

this quote was generated by twtQuote

If we replace the words 'gypsy', 'gypo, 'pikey' 

 etc. with racial slurs such as 'nigger', 'paki', 'wog', 'coon' and 'chink', can it really be argued that these attitudes are not racist? The ethnic minority status of Romani and Irish Travellers is neither recognised nor accepted by the British public. Instead, there are still widespread misconceptions that Gypsies and Travellers are merely a white underclass – 'chavs' in caravans – there by choice and thus somewhat deserving of discrimination. However, both Romani Gypsies and Irish Travellers have been granted legal protection under the Race Relations Act and thus have legally recognised ethnic minority status. 

 Still, prejudice and discrimination against the Romani and Irish Traveller communities has remained unchallenged, tolerated and unpunished.




The Irish traveller community, will indeed always contend with the fact that they are a distinct yet Irish minority, thus the British public view them merely as Irish immigrants, undeserving of 'special treatment'. However, unlike Irish Traveller's, perhaps what is most detrimental to the recognition of the Romani people's ethnic minority status, is the exact opposite- their lack of a motherland. It seems easier for society to accept one's minority status, if they can be pinpointed on the map. Andrzej is from Poland, he is Polish.

  Abena is from Ghana, she is Ghanaian. Kamran is from Pakistan, he is Pakistani. 

 Anna is from England, she is A GYPSY? It seems if Anna is white, if Anna is British, then Anna should subscribe to white British ideals and culture. Anna's motherland is England. 

 Anna is not an ethnic minority. 

 




If we look past skin colour, caravans and scrap metal, there is a fascinating history to be discovered. It is thought that the origins of the Romani people lie in India. Linguistic research has revealed links between the Romani language and Indo- Aryan languages such as Hindi and Marwari. What is more, similarities have been found between Romani and Indian blood types.  Indeed, when the Romani people arrived in Britain some 500 years ago, their appearance was thought to be Egyptian – hence the creation of the term Gypsy. What is clear is that Romani people are a separate ethnicity, and that their culture has been shaped by origins that lay outside of mainstream British and European societies. Thus, one cannot become Romani, one can only be born Romani. 




Perhaps what is perplexing is this preoccupation with choice versus ethnicity, for even if one could chose to be Romani, would this make them deserving of such extreme discrimination as the Nazi extermination (Porajmos). Indeed, the majority of society remains shocked by the Holocaust, the mass extermination of the Jewish people, yet Judaism is a religion – one may choose to convert and thus 'become' Jewish. Does this make a convert to Judaism deserving of discrimination? Do they deserve to die? After all, it was their choice. The simple truth is that hundreds of thousands of Romani people were murdered by Nazi Germany and still to this day they have not been giving the recognition that they deserve. Atrocities and discrimination against the Romani people are erased from the history books, and snubbed by the mainstream media. 




June 1st marks Gypsy, Roma and Traveller History Month. Unlike Black History Month, there will be no celebrations in our schools, no special broadcasts on BBC Radio, no series of documentaries on TV. Perhaps if we're lucky, More4 may play reruns of Big Fat Gypsy Weddings, and a far left blog may write about our heart-rending tale, read only by those with an already established interest in our community. If you wish to learn more about the Romani people, you can read about our dirty thieving ways in the Daily Mail, or watch a documentary about one great big extended Irish family that represent the thousands of Romani people in the UK, or why not ask your mum's friend's sister's husband's colleagues' daughter's cousin about that time 3 Romani's, out of a possible 300,000, stole her son's bike. 

 It seems, there is no place to celebrate Romani culture in the United Kingdom, only a thousand reasons why we should hide who we are. Gypsy, Roma and Traveller History month comes once a year but Gypsy, Roma and Traveller discrimination is an all year party. Some choice.
Click Here to Sign the Petition 

For hundreds of years Romani have suffered racism and prejudice because of the way we were stereotyped. A lot of hard work has went into changing people's view of us around the world. This is being destroyed along with the reputations of our people. The Television Show "My Big Fat Gypsy Wedding" promises a look into the "Gypsy" lifestyle. What they are really doing is showing a small group of Irish Travellers and then passing them off as "Gypsies". There are many lies that are being peddled to the viewers as facts so that the show's producers can make a buck. But they are doing it at OUR EXPENSE.

One of the many lies shows a supposed "Gypsy" tradition called Grabbing, where boys basically assault young girls in order to steal a kiss. You know we don't do this. Its insulting to Romanies and Irish Travellers alike that this show throws us into a pile with no respect to who we really are. We have been severely damaged by the way this show spins "Gypsies" into a Jerry Springer Show. Our people are being depicted as trailer trash, alcoholics and thieves which is causing even more hatred and more suspicion in the Romani and Traveller communities.Do not participate in the negative portrayal of the Roma by participating in this documentary. These people are sharks who will use and abuse you and your family. They are soliciting our kids on Facebook already. They've contacted my daughter, my sisters and other members of my family. Chances are they are trying to contact your chavies too.

Do not trust them!A show like this can make MILLIONS of dollars per season and will expose the way that you live and how you do business. They would pay you what amounts to peanuts. We have read dozens of reports from other Travellers and Romani in the United Kingdom about how our children are now the subject of even more abuse and are being bullied because of the lies produced in this show.

A potential class action lawsuit may be filed against the My Big Fat Gypsy Wedding to show these greedy outfits that we're not going to take this laying down. All Roma, Romanichals and Travellers need to join the fight by filling out this petition. Just click on the clipboard to be taken immediately to the petition. We appreciate your support!

[Source]
London, UK. 08/04/2012.

Roma lay flowers at the Holocaust memorial in Hyde Park to commemorate Roma killed during the Holocaust and to protest anti-Roma racism.
There have been Gypsies in America since 1640 when entire families of English Gypsies called Romanichals were, for the crime of being Gypsy, enslaved or "indentured for life" alongside Africans on the Virginia plantations. German Gypsies arrived under similar duress. German Gypsies, who had "inhabited the Palatinate or Rhine County, for many centuries, wandering the entire distance between Schaffhausen and Middelburg on their migrations" arrived in the late 1720s with the Huguenots, Swiss Moravians, Alsatians, Jews and Waldensians searching for freedom from oppression and an escape from the poverty and chaos caused by the Thirty Years War (1618-48). * But Gypsies had been given additional reason to emigrate. Since 1577 anti-Gypsy legislation had forbidden them to do business or settle. By 1710 flogging, branding, separation from kin and exile became the standard punishment for Gypsy men and women with no criminal charges against them. The punishment for returning was execution. Those deemed fit for work faced "life confinement with forced labor". In 1734 Gypsy hunts became an established and profitable sport, with a reward of "six Reichstaler for every live Gypsy brought in and three for a dead Gypsy, as well as keeping their belongings".

In 1826, Freiherr von Lenchen displayed his trophies publicly: the severed heads of a Gypsy woman and her child.

In 1835, a Rheinish aristocrat entered into his list of kills "A Gypsy woman and her suckling babe."

Henry W. Shoemaker in a 1924 address related that although the Gypsies were "Proscribed, hated and despised, there were strict regulations against these Nomads being embarked in a body as if, though they were not wanted at home, they were not allowed to go elsewhere! On a number of occasions Gipsy bands endeavored to charter whole ships at Rotterdam, but as they were watched with the same argus-eyed authority as are bootleggers today, their efforts were always at the last minute frustrated. It is related that one ship, the "Stein-Awdler," giving it the "Pennsylvania Dutch" pronunciation, got away under cover of darkness, but during an unfavorable tide, it still lay in the harbor at daybreak, when the papers were scrutinized and declared invalid by the port authorities.

Several boat-loads of port wardens went in pursuit, but the boats were not to carry the unfortunate Chi-kener back to dry land, but order them off the ship.  They were driven overboard, men, women and children, like a plague of rats, and had to jump out in the mud up to their waists, and get ashore as best they could, leaving their possessions behind, which were seized as a fine levied against them as a body. On shore the mud-saturated refugees were attacked by a mob armed with boat-hooks and soundly beaten, and probably quite a few died of their wounds and exposure afterwards."

By Linda Griggs
Do you know Mrs. Cooper?

I knows her very well brother.

Do you like her?

I loves her very much, bother; and I have often, often said to the other Gypsies, when they were speaking ill of her: She's a gentlewoman; she takes care of all of you; if it were not for her, you would all go to the devil.

What does she do for a living?

She tells fortunes, brother; she tells fortunes.

Is she a good hand at fortune-telling?

There's no Roma woman under the sun so good at fortune-telling as Mrs. Cooper; it is impossible not to have your fortune told by her; she's a true witch; she takes people by the hand, and tells their fortune, whether they will or no.

Anglo-Romani language excerpt from the chapter "Lil of Romano Jinnypen" (Book of the Wisdom of the Egyptians) out of George Henry Borrow's book "Romano lavo-lil" (Word Book of the Romany) written in 1905.

My grandfather's family were part of the Cooper clan (also known as 'VardoMescri' - which literally means cartwright) who lived in the New Forest area of the UK. Originally, my part of the family were from Latvia.
More than 20 families from Cardiff's Gypsy and Traveller community will get the opportunity to share their history, culture and traditions thanks to a grant from the Heritage Lottery Fund.
Despite having been part of British society for over 500 years, members of the Gypsy, Roma and Traveller Community are often thought of negatively.  This new project which involves residents from the Rover Way and Shirenewton sites, will share their experiences of their lives in Cardiff and their nomadic way of life.
The project, which will be managed by the Romany Cultural & Arts Company in Cardiff, will recruit volunteers and train them in recording oral histories, create a new exhibition which will tour venues throughout Cardiff and produce learning and interpretation material which will help people to have a better understanding of the heritage of the cities' Gypsy, Roma and Traveller community.
Isaac Blake, Director of the Romany Cultural and Arts Company said, "Many people have documented the heritage and culture of the Gypsy, Roma and Traveller community, but much of that has been documented by people outside of our community.  This project will create an opportunity for Cardiff's Gypsy and Traveller community to lead the project itself and be sure that it becomes a true representation of its culture and values."
After the mechanisation of traditional rural work, the lives of people from the Gypsy, Roma and Traveller community changed dramatically and many people moved to towns and cities.
In addition to the financial support from HLF, the project will also be given practical help and support from St Fagans: National History Museum; The Cardiff Story; Cardiff Council's Traveller Education Service and The Black Voluntary Sector Network Wales.
Beth Thomas, Keeper of Social and Cultural History at St Fagans: National History Musuem Beth Thomas said "The Museum is glad to support this project and provide an archival home for the material collected. The role of Welsh Gypsies in preserving aspects of Wales' traditional music and dance has been well documented by others. This is a very timely opportunity for the travelling community to tell their own stories, present a fuller picture of their culture and way of life, and preserve that knowledge for future generations".
Supporting the HLF grant award, Equalities Minister Jane Hutt, who recently launched 'Travelling to a better future' a Gypsy and Traveller Framework for Action said:
"Wales as a nation has always prided itself as a diverse society with a rich mix of cultures and traditions. Gypsy and Traveller culture and heritage forms a part of this diversity.  Thanks to this project more people will be able to learn about that heritage directly from the Gypsy and Traveller community that plays such an important part of everyday life in Cardiff."
Jennifer Stewart, Head of the HLF in Wales added, "The lives of Gypsy, Roma and Traveller communities have changed significantly in the past 50 years.  This project not only offers the opportunity to record this history before it is lost, it offers exciting opportunities for people to get to know more about the history of the community in Cardiff".
(source: Romani Cultural & Arts Company)
As a white majority, I probably don't have much say in this.  But after thinking it over for a while, I came to the pretty obvious realization of why so many privileged whites think being a 'Gypsy' is 'cool'.

they're…. racist? They're racist. For real. This post better not attempt to explain this as anything other than "they're racist" -

 We've been Romanticized.

Oh, okay. >_<

 Especially us Americans.  I mean, look at our cowboy culture.  For the longest time, kids looked up to the infamous outlaws of the West -Bonnie and Clyde, Jesse and James.  We also made idols out of heroes like the Lone Star, a man that traveled around the West, not connected to any one place.

I guess you could call these narratives "romantic", but you could also call them racist. "Cowboys" are the imagery of a time when white settlers were actively trying to wipe out Native people in North America - their popularity isn't just due to the fact that they were "free spirits", it also has a lot to do with narratives of white supremacy. Cowboys were, after all, supposedly making the land "safe" for white settlers to occupy.

 Away from the Rromani people, we developed this sense that they were, in a way, similar to our Old West heroes and villians, simply travelling and living off of the land.

Rromani people exist in North America.

Rromani people exist in North America.

Rromani people have existed in North American for a long time, dating back to the colonization of the land (when Romanichal people were shipped over to North America as chattal slaves, similar to the African diaspora, by the way).

 By no means is that correct.  But in a way, for someone looking to escape the dull uniformity of their current life, it seems better, at least, when they look at the Romanticized portrait.

I've also come to the realization that people are going to keep using that word until something else can replace it.  What about 'vagabond', or 'nomad'?  These are also terms that describe a wanderlust lifestyle.  And, as far as I know, it's not describing a culture (well, nomad kinda does, but there are nomads in every single culture across the world, so…)

Just replacing the word without challenging and dissembling it on a structural, fundamental level isn't going to change the intent and impact of it. If you say "vagabond", but you really MEAN "gypsy", it's still fucking racist. I'm really uncomfortable with a gadje weighing in on what to do about the word "gypsy" with anything other than "hey guys, let's cut this shit out". "Gypsy" is a racial slur. "Vagabond" and "nomad" are NOT synonymous with "gypsy".
There are Gipsies and Gipsies, but those of the New Forest , the Tent-Dwellers,are many of them descendants of the old Tribes (Orientals) who have made the Forest their home for centuries past. These Camping -or Tent-Dwelling-Gipsies compare very favourably with their more unruly nomadic brethren, the Romany of the towns, the Van-Dwellers. They are amenable to kindness and are civil and polite, most inoffensive, and nevr known to commit crimes of robbery or violence; in fact, an old local magistrate toldme that he had never known a case against any of these Forest Gipsies more serious than the stealing of such small trifles as a fowl or a rabbit,or some park railings for firewood,during the fifty years he had sat on the bench.

[source: Romanyjib]
Garth Cartwright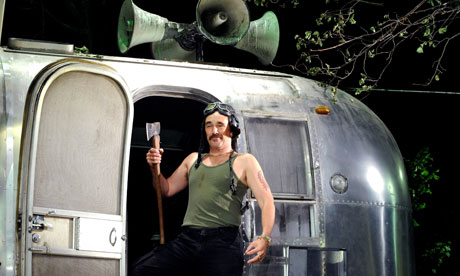 Mark Rylance as Johnny 'Rooster' Byron in the play Jerusalem. Photograph: Tristram Kenton
Wednesday 19 October will be remembered as a bleak day by those who claim allegiance with the UK's Traveller and Romany Gypsy communities. If the Dale Farm eviction marked a brutal beginning to the day, the screening on BBC2 of Panorama's Britain's Child Beggars marked a chilly close. Dale Farm's residents were Irish Travellers. The child beggars and their Fagins were Romanian Roma. Two very separate communities united only by a historic memory of roaming and a tendency to be described (and to describe themselves) as "Gypsies" – that catch-all term derived from "Egyptians", as Constantinople's citizens labelled the dark-skinned people who arrived at their city in 1068. These pioneers were, it is thought, fleeing the Islamic armies then invading north-west India. Admittedly, the Travellers and the Roma also share a common plight: whether in Ireland, Romania or their adopted UK home, they are perceived as outsiders, their communities ostracised and marginalised.
As the author of a book on travelling with Gypsy musicians, I'm often asked what I make of the showdown at Dale Farm or the virulent reactions east Europe's Roma stir up from the tabloids and rightwing politicians. There are no easy answers, but one thing is for certain: at the dawn of the 21st century, Gypsy culture is denigrated and celebrated in equal measure. In the West End, Johnny "Rooster" Byron, the protagonist of Jez Butterworth's much-praised play Jerusalem, is Romany. Memoirs such as Mikey Walsh's Gypsy Boy, Rosie McKinley's Gypsy Girl and Sam Skye Lee's Gypsy Bride have proved UK bestsellers. Romanian Gypsy bands Taraf de Haidouks and Fanfare Ciocarlia have lit up the world's greatest theatres and attracted voluble praise from all manner of critics.
Gypsy culture has moved in and out of fashion over the centuries: DH Lawrence described the Gypsies as noble savages while Jimi Hendrix wrote songs and named a band after them – and in my post today was a CD called Brass Noir, which finds Berlin-based DJs championing Fanfare Ciocarlia and other Balkan brass bands as club tunes. Indeed, Serbia's annual Guca brass festival – the Gypsy Glastonbury – is now on every adventurous backpacker's list. American rock bands Gogol Bordello and A Hawk and A Hacksaw both borrow elements of eastern Gypsy music to spice up their sound, with Gogol's vocalist seemingly sharing the same stylist as Mark Rylance in Jerusalem. Scruffy chic seemingly being the trademark Romany fashion.
History always repeats itself and this is nothing new: from Caravaggio's palm-reading, pick-pocketing hustler to Bizet's Carmen, the arts have loved the Roma. At least as inspiration. While the Nazis were intent on committing genocide upon Europe's Gypsies, their top officers flocked to see Django Reinhardt play in Parisian clubs. And Roma communities across eastern Europe are today more impoverished and threatened by rightwing groups than ever since the end of the second world war.
Slovakia, not a nation noted for its tolerance of the Roma populace, has entered Cigan (Gypsy) – a film that transports Hamlet's son-and-stepfather struggle to an impoverished rural Gypsy village – into the 2012 Academy Awards for best foreign film. The Gypsy cinema of Emir Kusturica (Serbia) and Tony Gatlif (France) has proved profitable on arthouse screens and Cigan (which screened at the London film festival last week) may follow suit. But those few who get ahead in music or film don't account for the multitude left behind. Some of whom, as the Panorama film suggests, end up being trafficked to the UK to beg on our streets. Many of Dale Farm's former residents might be forced to join them there this winter.
In spite of all this, Dale Farm's struggle has attracted almost no support from artistic voices beyond that of Vanessa Redgrave. The 2009 Belfast pogroms against Romanian Roma, likewise, were met with silence from the likes of Bono and Bob Geldof. Romanticised but despised, the life of the Gypsy as celebrated by so many songs and paintings, novels and films, looks less enticing on this freezing October morning.
(source: The Guardian)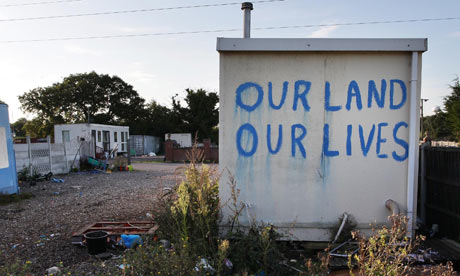 A slogan is painted on a hut at Dale Farm travellers camp Photograph: Peter Macdiarmid/Getty Images
Violent clashes as Dale Farm eviction begins
Caravan on fire as at least 50 officers enter site
Reports of police baton and taser use as protesters resist
(source: The Guardian)
The Cooper Gypsies… my relatives on my Grandfather's side. One of the boys is most likely him. The tall man in the third picture on the far right, is Frank Cooper. My grandfathers name was also Frank (Francis), so I believe that could be my great grandfather.
My new hero~!

To the travellers at Dale Farm he is a shaven headed activist who helped man the barricade and played a key role in their High Court battle against eviction.

But today the Daily Telegraph can reveal the man who calls himself Yoshka Pundrik is in fact Dr Jonathan Oppenheim, one of the world's leading physicists who works alongside Professor Stephen Hawking.

Dr Oppenheim, a Royal Society Research Fellow at the University of Cambridge, is usually concerned with the intricacies of time, space and the universe.

But recently he has been focusing his forensic mind on something some people consider equally complex: Britain's planning laws.

And to the dismay of councillors and neighbours his advice has already helped the gipsies win three last-minute reprieves.

When confronted The Daily Telegraph Dr Oppenheim, an expert in quantum information theory and quantum gravity, admitted his real identity and claimed the travellers were victims of the last "socially acceptable form of racism".

READ MORE: The Telegraph
English Romany couple, 1936.
Page from the book "We Are the Romani People: Volume 28 (Interface Collection)"
Detailing Dr. Ian Hancock's parent's travels to India, retracing the route of the original Romani clans, as noted in the National Geographic book "Gypsies: Wanderers of the World"
Both are available at Amazon.com